Horror / Scream Factory / Film
The Slumber Party Massacre [Deluxe Limited Edition Steelbook with Exclusive Action Figure]
Released:
January 21, 2020
• Available in US & Canada
Product SKU:
826663205404
Pre-Order
Special Offer: Order from ShoutFactory.com and get an EXCLUSIVE LIMITED EDITION NECA ACTION FIGURE and an EXCLUSIVE LIMITED EDITION 28.5" X 16.5" ROLLED LITHOGRAPH of our newly commissioned cover art, PLUS get it SHIPPED FREE in the U.S. (Standard Shipping)! Limited to 2,000 copies.
Synopsis
"The original Slumber Party has aged well, proving to be one of the smarter slashers of its time and a highly underrated effort from the genre's Golden Era. It's a fun mix of comedy and carnage" – DVD Talk
When Trish (Michele Michaels) decides to invite her high school basketball teammates over for a slumber party, she has no idea the night is going to end with an unexpected guest crashing the party – an escaped mental patient and his portable power drill – in the cult classic, The Slumber Party Massacre.
This Deluxe Limited Edition contains:
The Slumber Party Massacre [Limited Edition Steelbook] 1-disc Blu-ray
An exclusive, limited edition 8" tall Russ Thorn action figure by NECA
An exclusive, limited edition 28.5" X 16.5" rolled lithograph — made exclusively for this promotion — of the newly-designed art from artist Laz Marquez (this will ship rolled, in a poster tube)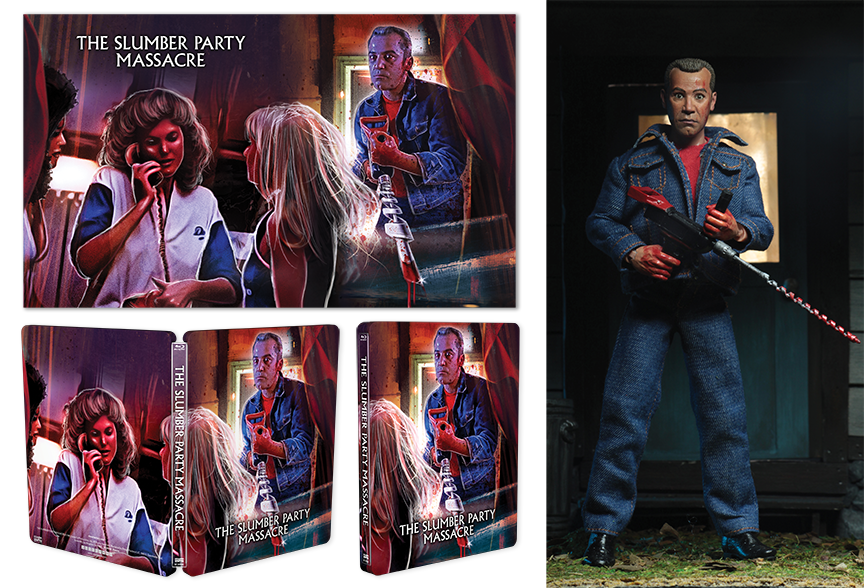 Bonus Features
NEW 4K Scan From The Original Camera Negative
"Sleepless Nights: The Making Of The Slumber Party Massacre"
Audio Commentary With Director Amy Holden Jones, Actors Michael Villella And Debra De Liso
Interview With Actor Rigg Kennedy
Theatrical Trailer
The Slumber Party Massacre
| NAME | ROLE |
| --- | --- |
| Michelle Michaels | Trish |
| Robin Stille | Valerie |
| Michael Villella | Russ Thorn |
| Debra De Liso | Kim |
| Andree Honore | Jackie |
| Gina Smika Hunter | Diane |
| Jennifer Meyers | Courtney |
| Joseph Alan Johnson | Neil |
| David Millbern | Jeff |
| Jim Boyce | John Minor |
| Amy Holden Jones | Director |
| Rita Mae Brown | Written By |
| Amy Holden Jones | Writer |
| Mark Allan | Associate Producer |
| Amy Holden Jones | Producer |
| Aaron Lipstadt | Co-producer |
| Roger Corman | Executive Producer |
Information powered by
...