Comedy / Romance / Sci-Fi / War / Drama / Crime / Horror / Mystery Science Theater 3000 / Film / TV
MST3K: Volume XXXVIII + Exclusive Bonus Disc
Released:
March 28, 2017
• Available in US & Canada
Product SKU:
826663174106
Add To Cart
Special Offer: The first 1,500 orders placed on ShoutFactory.com will receive an exclusive bonus disc featuring MST3K: Play MSTie For Me Triple Decker (see below for more details)!
Synopsis
Riffer extraordinaire Mike Nelson hosts all four episodes in this 38th collection of episodes from the beloved comedy series Mystery Science Theater 3000, but the true theme here is diversity. Proving to the world that no single genre is immune to cheez, and that our hilarious heroes aboard the Satellite of Love are equal opportunity critics, we present the worst in Cold War drama, Sword and Sandals, Juvenile Delinquents and Monsters. Any investment portfolio manager who advises that diversifying risk is good way to minimize damage clearly hasn't watched enough MST3K. Behold an incredible melting pot of cinema's multicultural genres, and you will understand that in the world of cheezy movies, there is nowhere to hide.
Episodes:
Invasion, U.S.A.
Colossus And The Headhunters
High School Big Shot
Track Of The Moon Beast
Plus, the first 1,500 orders will receive an exclusive bonus disc, which will contain: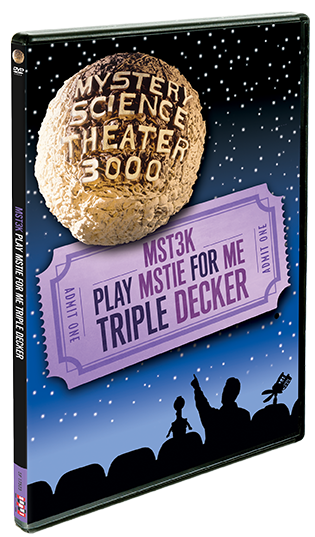 MST3K: Play MSTie For Me Triple Decker
Vaudeville. Broadway. MST3K.
In the long tradition of show-stopping musical numbers, few have achieved as much as Mystery Science Theater 3000 has. From the golden age rock 'n' roll classic "Where Oh Werewolf" to the seasonal staple"A Patrick Swayze Christmas," Joel, Mike, Crow and Tom Servo have proven as formidable a musical force as many of the most esteemed all-human composing teams.
Now, after years of out-of-print obscurity, the Play MSTie For Me Triple Decker DVD gathers 39 of the finest MST3K musical moments into one eminently singable package sure to bring joy to the Mystery Science Theater 3000 melodic connoisseur.
Sing with Gamera. Profess your undying love for Kim Cattrall. Abandon all sense of proportion while skewering Canada. Above all, clear a small space on your shelf for this disc and enjoy watching the Satellite of Love crew sing — and laugh — their pain away.
MST3K: Volume XXXVIII + Exclusive Bonus Disc
| NAME | ROLE |
| --- | --- |
| Albert Zugsmith | Producer |
| Alfred E. Green | Director |
| Dan O'Herlihy | Actor |
| Franz Schulz | Writer |
| Gerald Mohr | Actor |
| Joseph Justman | Producer |
| Peggie Castle | Actor |
| Robert Bice | Actor |
| Robert Smith | Writer |
| Robert Smith | Producer |
| Tom Kennedy | Actor |
...