MST3K: Volume XXXVI
Released:
July 26, 2016
• Available in US & Canada
Product SKU:
826663168211
Add To Cart
Product Note: The exclusive bonus disc is sold out.
Synopsis
In this election year, we present two candidates for president of Mystery Science Theater 3000 Volume XXXVI. Representing the Comedy Central Party, Joel Hodgson, a champion of long-suffering cinephiles, leads the botty politic in two memorable episodes replete with inspired riffs and wacky host segments. Representing the Sci Fi Channel Party is Mike Nelson, a riff-ormer whose doctrine of laughter at any cost is clearly in play on the other two delirious episodes in this collection. We urge you to hear them both out as they take on some of the cheesiest movies of the day and lay out their visions for a funnier tomorrow.
Titles Include:
Stranded In Space
City Limits
The Incredible Melting Man
Riding With Death
Plus, the first 1,000 orders from ShoutFactory.com received an exclusive bonus disc (THIS DISC IS NOW SOLD OUT):
The MST3K Annual Summer Blockbuster Review was only legitimately annual for one year, since only two were ever produced. But the summers of 1997 and 1998 proved that in space lawyers can't hear you riff, because some of the titles skewered by our nutty Davids were genuine Goliaths.
These two vintage half-hour TV specials, on DVD for the first time, see Mike, the bots and even the Mads and their friends take on trailers and behind the scenes footage from such investments as Deep Impact, Armageddon and Ever After. Even Steven, blessed be his name, is not left alone. It's all in good fun, though, and while many may take issue with the selection, no one will deny that the gang from Eden Prairie's real target is Hollywood. Enjoy this time capsule from an era when mammoth budgets were not exclusive to superhero movies.*
*Batman and Robin excepted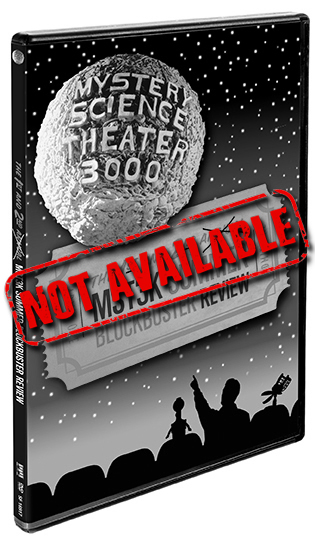 MST3K: Volume XXXVI
| NAME | ROLE |
| --- | --- |
| Alan A. Armer | Producer |
| Andrew J. Fenady | Writer |
| Cameron Mitchell | Actor |
| George Coulouris | Actor |
| Gerald Sanford | Writer |
| Glenn Corbett | Actor |
| Lee H. Katzin | Director |
| Lew Ayres | Actor |
| Sharon Acker | Actor |
...
Cart Summary
Subtotal: $0