MST3K: Volume XXXIX + Exclusive Bonus Disc
Released:
November 21, 2017
• Available in US & Canada
Product SKU:
826663180992
Special Offer: The first 1,500 orders placed on ShoutFactory.com will receive an exclusive bonus disc featuring MST3K: The Complete Poopie! (see below for more details)! Also, get it shipped THREE WEEKS EARLY!
Synopsis
And in the end, the laughs you take are equal to the jokes they make. Contained within is the almost certainly, probably definitely, maybe unquestionably final collection of never-before-released episodes of our favorite Cowtown puppet show, Mystery Science Theater 3000. The slings and arrows of outrageous licenses have resulted in only three episodes, so we have included a disc featuring host segments of all the remaining unreleased ones. It's fitting that this volume includes Diabolik, as it was the final episode of the series. But final has a way of not being final, and one need only turn to Netflix to appreciate that. So take one plausibly last ride with our heroes on the Satellite of Love, and keep circulating the tapes!
Titles Include:
Girls Town
The Amazing Transparent Man
Diabolik
Satellite Dishes
Plus, the first 1,500 orders will receive an exclusive bonus disc, which will contain:
MST3K: The Complete Poopie!
Everyone poopies, and even the maestros of comedy aboard the Satellite of Love weren't immune to the occasional blooper. After years on the air, those added up, and the result is a wonderful collection of mishaps, line flubs and crack-ups. Poopie! chronicled the outtakes from Seasons 2-6. Poopie II! added seasons 7 & 8 to the mix, and Poopie Parade Of Values was the gang's unique take on an infomercial to shill the VHS tapes of Poopie! and the MST Scrapbook being sold by the MST3K Info Club. So if you're anal about Poopie, this definitive collection will be cause for the kind of celebration you should probably keep to yourself.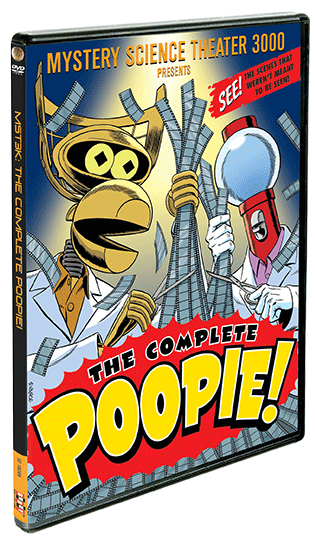 Bonus Features
Chuck Love And The Anatomy Of A Theme
Beyond Transparency: New Featurette About The Amazing Transparent Man
Showdown In Eden Prairie: Their Final Experiment
The Last Dance: A Documentary Special That Chronicles The Final Days Shooting The Last Episode Of The Original Run Of MST3K, Diabolik.
Behind The Scream: Daniel Griffith On Ballyhoo
Theatrical Trailers
4 Exclusive Mini-Posters By Artist Steve Vance
MST3K: Volume XXXIX + Exclusive Bonus Disc
| TITLE | NAME |
| --- | --- |
| Actor | Mamie Van Doren |
| Actor | Mel Tormé |
| Actor | Ray Anthony |
| Actor | Margaret Hayes |
| Actor | Paul Anka |
| Producer | Albert Zugsmith |
| Director | Charles F. Haas |
| Writer | Robert Hardy Andrews |
| Writer | Robert Smith |
...