Adventure / Animation / Comedy / Family / Fantasy / Mystery / Sci-Fi / TV / Kids
Gravity Falls: The Complete Series [Collector's Edition] + Exclusive Lithograph
Released:
July 24, 2018
• Available in US & Canada
Product SKU:
826663188837
Add To Cart
Special Offer: Order from ShoutFactory.com and get a FREE 18" X 24" ROLLED LITHOGRAPH, available while supplies last!
Synopsis
Welcome To Gravity Falls !
Twin brother and sister Dipper and Mabel Pines are sent to the small town of Gravity Falls, Oregon to spend their summer vacation with their great uncle ("Grunkle") Stan. Upon arrival, Grunkle Stan enlists the siblings' help in running The Mystery Shack, a self-owned tourist trap that overcharges unsuspecting customers. While Dipper has a hard time getting used to his new surroundings, Mabel's upbeat optimism comes in handy in her quest to find true love.
But there may be more to Gravity Falls than meets the eye as Dipper and Mabel encounter strange occurrences and weird creatures. When Dipper stumbles upon an elusive book, he discovers it is the answer to uncovering the town's mysterious happenings. Soon, Dipper and Mabel realize they must rely on each other to navigate this unfamiliar place. Meanwhile, Grunkle Stan guards a secret of his own — one that just might hold the key to unlocking the deeper mystery that is Gravity Falls.
Includes All 40 Episodes!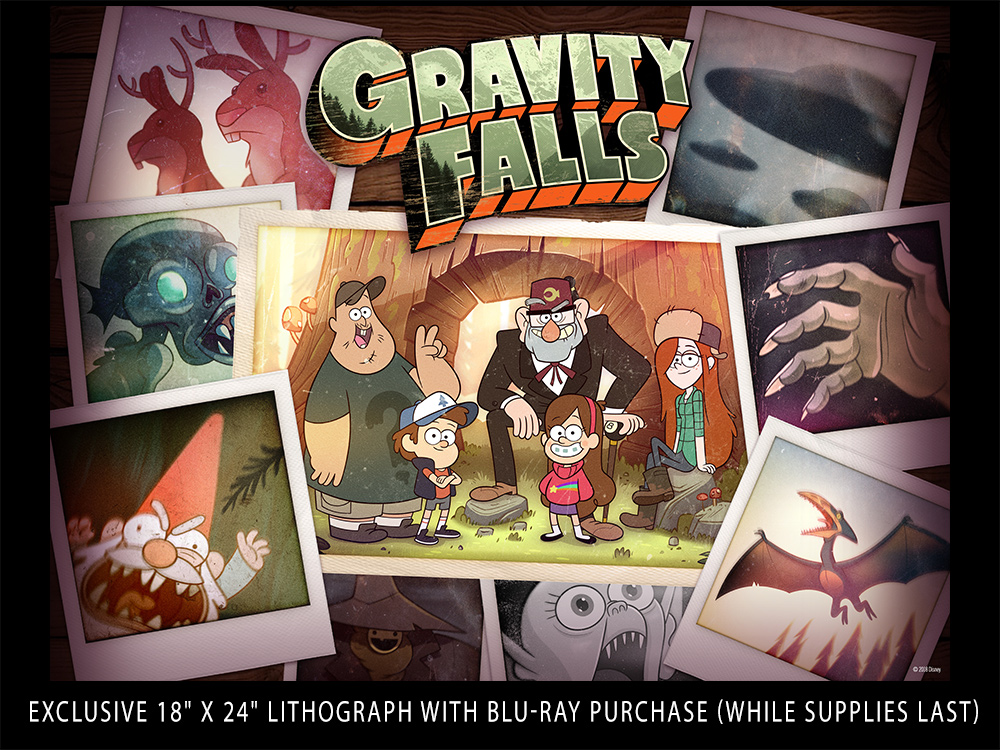 Why We Love It
"It's a massive, monumental, borderline overwhelming collection that will take fans a good long while to sort through…Shout! Factory has given Disney's hit show the royal treatment on Blu-ray. Picture and sound qualities are excellent, the supplements are extensive, and the packaging is nice, too. Gravity Falls: The Complete Series comes very highly recommended." – Martin Liebman, Blu-ray.com
"Once again, Shout! Factory has gone all-out in crafting a terrific Blu-ray box set for this series, one that not only delivers fine A/V quality but is loaded with fun extras that should delight its fans." – Bill Hunt, The Digital Bits
"It's an excellent release—the only negative being the poignant finality in the word 'complete.'" – Brian Tallerico, RogerEbert.com
"Shout! Factory has put together a monstrously impressive set for the 40-episode show. While it has a terrific presentation, its the loaded and enriching bonus features that truly make this set outstanding. This set leaves no stone unturned and no question unanswered. If you like the show, this is a MUST HAVE." Brandon Peters, Why So Blu
"By the end of this seven-disc box set, you'll feel like an honorary member of the creative team. This entire series is worth revisiting again and again, so find a way to make room on your shelf for Gravity Falls: The Complete Series Collector's Edition." – Laughing Place
"For fans, the Blu-ray set is the real gem" – Live For Film
"Even by Shout Factory's high standards, it's a truly amazing offering!" – GeekDad
"Shout! Factory has outdone themselves here. The box set, episodes, and all special features are gorgeous, and this release was obviously a labor of love – much like the show itself." – The Roarbots
"Shout Factory has gotten pristine beautiful transfers from Disney for this Blu-Ray release. The transfers for the entire 40-episode run are perfectly graded and color corrected. There is a definite uptick in quality from the Broadcast and Streaming versions of the show… Shout Factory and their content producers have gathered together an ENCYCLOPEDIC amount of special features to this disc. Spread over seven discs, that includes a single Blu-Ray devoted to just extras, the work they have done here is exhaustive, to say the least… Shout Factory has hit a Grand Slam with this one. The extras Shout Factory has put together are nothing short of perfect. This is Year End Top 10 Box Set Material. HIGHEST POSSIBLE RECOMMENDATIONS!!!!" – The Movie Isle
"Packed to the gills with close to 20 hours(!) of bonus content and reference-quality picture and audio, the 7-disc "Gravity Falls: The Complete Series" Blu-ray boxed set exceeds any and all expectations. That it's a thoroughly great show, one that deliciously melds offbeat comedy, horror and mystery into a winning concoction, is the whipped cream and cherry on top. Fans will be thrilled beyond belief by the love and care Shout! Factory have given this beloved cult series. As for those prospective viewers who aren't yet familiar with it (and I was admittedly one of them before the Blu-ray set arrived on my doorstep), you are in for a real treat. "Gravity Falls: The Complete Series" is one of the very best Blu-ray releases of 2018. A MUST-OWN. – The Blu File
Bonus Features
NEW Audio Commentaries On All 40 Episodes With Creator Alex Hirsch And Members Of The Cast And Crew
NEW "One Crazy Summer" – A Look Back At Gravity Falls Featuring Interviews With Alex Hirsch, Actors Jason Ritter, Kristen Schaal, Jackie Buscarino, Thurop Van Orman, Carl Faruolo, And Niki Yang, Creative Director Michael Rianda, Producers Rob Renzetti And Brian Doell, Directors And Artists Matt Braly And Joe Pitt, Writers Jeff Rowe, Shion Takeuchi, And Josh Weinstein, Composer Brad Breeck, Art Director Ian Worrel, Artists Dana Terrace, Robertryan Cory, Andy Gonsalves, Sean Jimenez, And Alonso Ramirez Ramos, And Alex's Twin And The Inspiration For Mabel, Ariel Hirsch (105 minutes)
NEW "The Hirsch Twins" – Alex & Ariel Hirsch Remember Their Own Summers Growing Up
NEW Deleted Scenes – Over An Hour Of Never-Before-Seen Content
"Between The Pines" – Behind-The-Scenes Series Finale Special
Shorts – Interstitial Programming Between Seasons 1 And 2
Promos – Commercial And Other Promo Materials From The Show's Run
And More ... ?
Product Information
Episodes
Episode
Episode Title
1
Gravity Falls: Tourist Trapped
2
Gravity Falls: The Legend Of The Gobblewonker
3
Gravity Falls: Headhunters
4
Gravity Falls: The Hand That Rocks The Mabel
5
Gravity Falls: The Inconveniencing
6
Gravity Falls: Dipper vs. Manliness
7
Gravity Falls: Double Dipper
8
Gravity Falls: Irrational Treasure
9
Gravity Falls: The Time Traveler's Pig
10
Gravity Falls: Fight Fighters
11
Gravity Falls: Little Dipper
12
Gravity Falls: Summerween
13
Gravity Falls: Boss Mabel
14
Gravity Falls: Bottomless Pit!
15
Gravity Falls: The Deep End
16
Gravity Falls: Carpet Diem
17
Gravity Falls: Boyz Crazy
18
Gravity Falls: Land Before Swine
19
Gravity Falls: Dreamscaperers
20
Gravity Falls: Gideon Rises
21
Gravity Falls: Scary-oke
22
Gravity Falls: Into The Bunker
23
Gravity Falls: The Golf War
24
Gravity Falls: Sock Opera
25
Gravity Falls: Soos And The Real Girl
26
Gravity Falls: Little Gift Shop Of Horrors
27
Gravity Falls: Society Of The Blind Eye
28
Gravity Falls: Blendin's Game
29
Gravity Falls: The Love God
30
Gravity Falls: Northwest Mansion Mystery
31
Gravity Falls: Not What He Seems
32
Gravity Falls: A Tale Of Two Stans
33
Gravity Falls: Dungeons, Dungeons & More Dungeons
34
Gravity Falls: The Stanchurian Candidate
35
Gravity Falls: The Last Mabelcorn
36
Gravity Falls: Roadside Attraction
37
Gravity Falls: Dipper And Mabel vs. The Future
38
Gravity Falls: Xpcveaoqfoxso (aka Weirdmageddon Part 1)
39
Gravity Falls: Weirdmageddon 2: Escape From Reality
40
Gravity Falls: Weirdmageddon 3: Take Back The Falls
View all
Gravity Falls
| NAME | ROLE |
| --- | --- |
| Jason Ritter | Actor |
| Alex Hirsch | Actor |
| Kristen Schaal | Actor |
| Linda Cardellini | Actor |
| Alex Hirsch | Producer |
...