Animation / Action/Adventure / Comedy / Kids/Family / Sci-Fi / Fantasy / Mystery / TV / Kids
Gravity Falls: The Complete Series [Collector's Edition] + Exclusive Lithograph
Released:
July 24, 2018
• Available in US & Canada
Product SKU:
826663188837
Add to Wishlist
Special Offer: Order from ShoutFactory.com and get a FREE 18" X 24" ROLLED LITHOGRAPH, available while supplies last! Also get it shipped TWO WEEKS EARLY!
Synopsis
Welcome To Gravity Falls !
Twin brother and sister Dipper and Mabel Pines are sent to the small town of Gravity Falls, Oregon to spend their summer vacation with their great uncle ("Grunkle") Stan. Upon arrival, Grunkle Stan enlists the siblings' help in running The Mystery Shack, a self-owned tourist trap that overcharges unsuspecting customers. While Dipper has a hard time getting used to his new surroundings, Mabel's upbeat optimism comes in handy in her quest to find true love.
But there may be more to Gravity Falls than meets the eye as Dipper and Mabel encounter strange occurrences and weird creatures. When Dipper stumbles upon an elusive book, he discovers it is the answer to uncovering the town's mysterious happenings. Soon, Dipper and Mabel realize they must rely on each other to navigate this unfamiliar place. Meanwhile, Grunkle Stan guards a secret of his own — one that just might hold the key to unlocking the deeper mystery that is Gravity Falls.
Includes All 40 Episodes!
NEWLY ANNOUNCED (5/29/2018): 100 pre-orders, selected at random, will receive the exclusive lithograph signed by series creator Alex Hirsch!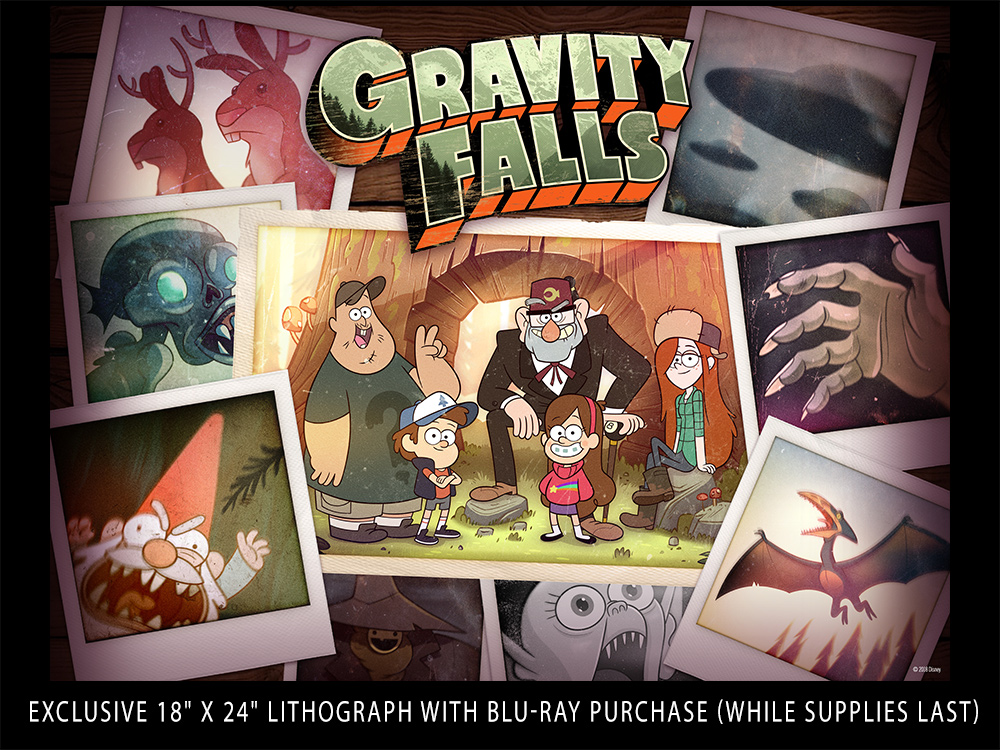 Bonus Features
NEW Audio Commentaries On All 40 Episodes With Creator Alex Hirsch And Members Of The Cast And Crew
NEW "One Crazy Summer" – A Look Back At Gravity Falls Featuring Interviews With Alex Hirsch, Actors Jason Ritter, Kristen Schaal, Jackie Buscarino, Thurop Van Orman, Carl Faruolo, And Niki Yang, Creative Director Michael Rianda, Producers Rob Renzetti And Brian Doell, Directors And Artists Matt Braly And Joe Pitt, Writers Jeff Rowe, Shion Takeuchi, And Josh Weinstein, Composer Brad Breeck, Art Director Ian Worrel, Artists Dana Terrace, Robertryan Cory, Andy Gonsalves, Sean Jimenez, And Alonso Ramirez Ramos, And Alex's Twin And The Inspiration For Mabel, Ariel Hirsch (105 minutes)
NEW "The Hirsch Twins" – Alex & Ariel Hirsch Remember Their Own Summers Growing Up
NEW Deleted Scenes – Over An Hour Of Never-Before-Seen Content
"Between The Pines" – Behind-The-Scenes Series Finale Special
Shorts – Interstitial Programming Between Seasons 1 And 2
Promos – Commercial And Other Promo Materials From The Show's Run
And More ... ?
Product Information
Discs

7

Run-time

15 hrs

Aspect Ratio ?

1.78:1

Color

Color

Language

English

Region

A

Rating

Various

Production Date

2012

Closed-Captioned ?

No

Subtitles

English
Episodes
Episode
Episode Title
1
Gravity Falls: Tourist Trapped
2
Gravity Falls: The Legend Of The Gobblewonker
3
Gravity Falls: Headhunters
4
Gravity Falls: The Hand That Rocks The Mabel
5
Gravity Falls: The Inconveniencing
6
Gravity Falls: Dipper vs. Manliness
7
Gravity Falls: Double Dipper
8
Gravity Falls: Irrational Treasure
9
Gravity Falls: The Time Traveler's Pig
10
Gravity Falls: Fight Fighters
11
Gravity Falls: Little Dipper
12
Gravity Falls: Summerween
13
Gravity Falls: Boss Mabel
14
Gravity Falls: Bottomless Pit!
15
Gravity Falls: The Deep End
16
Gravity Falls: Carpet Diem
17
Gravity Falls: Boyz Crazy
18
Gravity Falls: Land Before Swine
19
Gravity Falls: Dreamscaperers
20
Gravity Falls: Gideon Rises
21
Gravity Falls: Scary-oke
22
Gravity Falls: Into The Bunker
23
Gravity Falls: The Golf War
24
Gravity Falls: Sock Opera
25
Gravity Falls: Soos And The Real Girl
26
Gravity Falls: Little Gift Shop Of Horrors
27
Gravity Falls: Society Of The Blind Eye
28
Gravity Falls: Blendin's Game
29
Gravity Falls: The Love God
30
Gravity Falls: Northwest Mansion Mystery
31
Gravity Falls: Not What He Seems
32
Gravity Falls: A Tale Of Two Stans
33
Gravity Falls: Dungeons, Dungeons & More Dungeons
34
Gravity Falls: The Stanchurian Candidate
35
Gravity Falls: The Last Mabelcorn
36
Gravity Falls: Roadside Attraction
37
Gravity Falls: Dipper And Mabel vs. The Future
38
Gravity Falls: Xpcveaoqfoxso (aka Weirdmageddon Part 1)
39
Gravity Falls: Weirdmageddon 2: Escape From Reality
40
Gravity Falls: Weirdmageddon 3: Take Back The Falls
View all
...