Ernie Kovacs: Take A Good Look - The Definitive Collection + Exclusive Bonus Disc
Released:
October 17, 2017
• Available in US & Canada
Product SKU:
826663179385
Special Offer: Order this directly from ShoutFactory.com and receive an exclusive bonus DVD, Ernie Kovacs: Private Eye, Private Eye, available while supplies last. Plus, get FREE STANDARD SHIPPING (U.S. only)!
Synopsis
All 49 existing episodes of this truly offbeat game show from television's original genius!
October 22, 1959 to July 21, 1960 / October 27, 1960 to March 16, 1961 – Thursdays 10:30- 11:00 p.m. (ABC)
Take A Good Look is Ernie's aphoristic "if a tree falls in the woods" answer to the panel quiz show. Ernie turns the secret guest show formula on its ear and almost inverts it. In Take A Good Look, it is the host who gives the panel hints about the secret guest's identity, and in the form of surreal sight gags, blackouts and sketches. The clues only really make sense if you know who the guest is to begin with. Throughout the series' run, different approaches were taken to address this. Early on in season one, Ernie himself has trouble explaining the show's formula to the home audience. Throughout the show's two seasons, panelists periodically complain to Ernie that the clues don't make sense; there's one show where Hans Conried protests, "Please, Ernie ... tell them it's rigged!"
All in all, it is Ernie who seems to be enjoying the game the most, making these crazy blackouts as well as the commercials for Dutch Masters cigars. You watch the episodes of this game show and wonder "Did this really air on network television?"
Plus, the first 1,000 orders from ShoutFactory.com will receive an exclusive bonus disc, Ernie Kovacs: Private Eye, Private Eye:
Ernie Kovacs and Edie Adams star in Private Eye, Private Eye, a delicious sketch comedy special lampooning the detective shows that filled the airwaves at the time. Featured are some of Kovacs' most iconic creations, including Percy Dovetonsils as a Sherlock Holmes character and the Nairobi Trio as safecrackers. Ernie and Edie are supported by Hans Conried, Pat Carroll, and Kovacs stalwart Peter Hanley, and the show was produced by Max Liebman (Your Show of Shows). The show aired as part of the U.S. Steel Hour and hasn't been seen by the public since its original broadcast in 1961!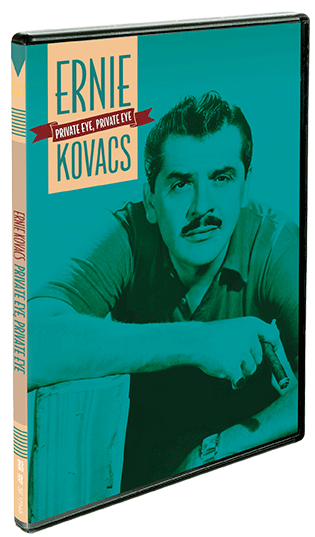 Why We Love It
"Kovacs' ripple effect on the comedy world as a whole cannot be overstated. The brand of chaotic yet laser-focused sketch comedy he pioneered in the '50s was the influential basis for Great Britain's greatest sketch comedy" – Brian Baker, City Beat
"It's a wonderful, odd prank of a game show, where Ernie tests the patience of his celebrity panel to the potential puzzlement or delight of his audience. Totally unique." – Justin Remer, DVD Talk
Bonus Features
A Short Essay About The Program By Film & TV Historian Ben Model
...