Now that My Little Pony Friendship Is Magic: Season Four is available on DVD, we thought it'd be fun to come up with a list of our top five Season Four episodes of My Little Pony Friendship Is Magic. Check our favorite episodes below, then let us know your top five in the comments!
Free Wallpaper Download!
We have a gift for you! You can get a downloadable wallpaper image of this amazing poster of all the ponies of Season Four! Click here to check it out (or right-click the image below).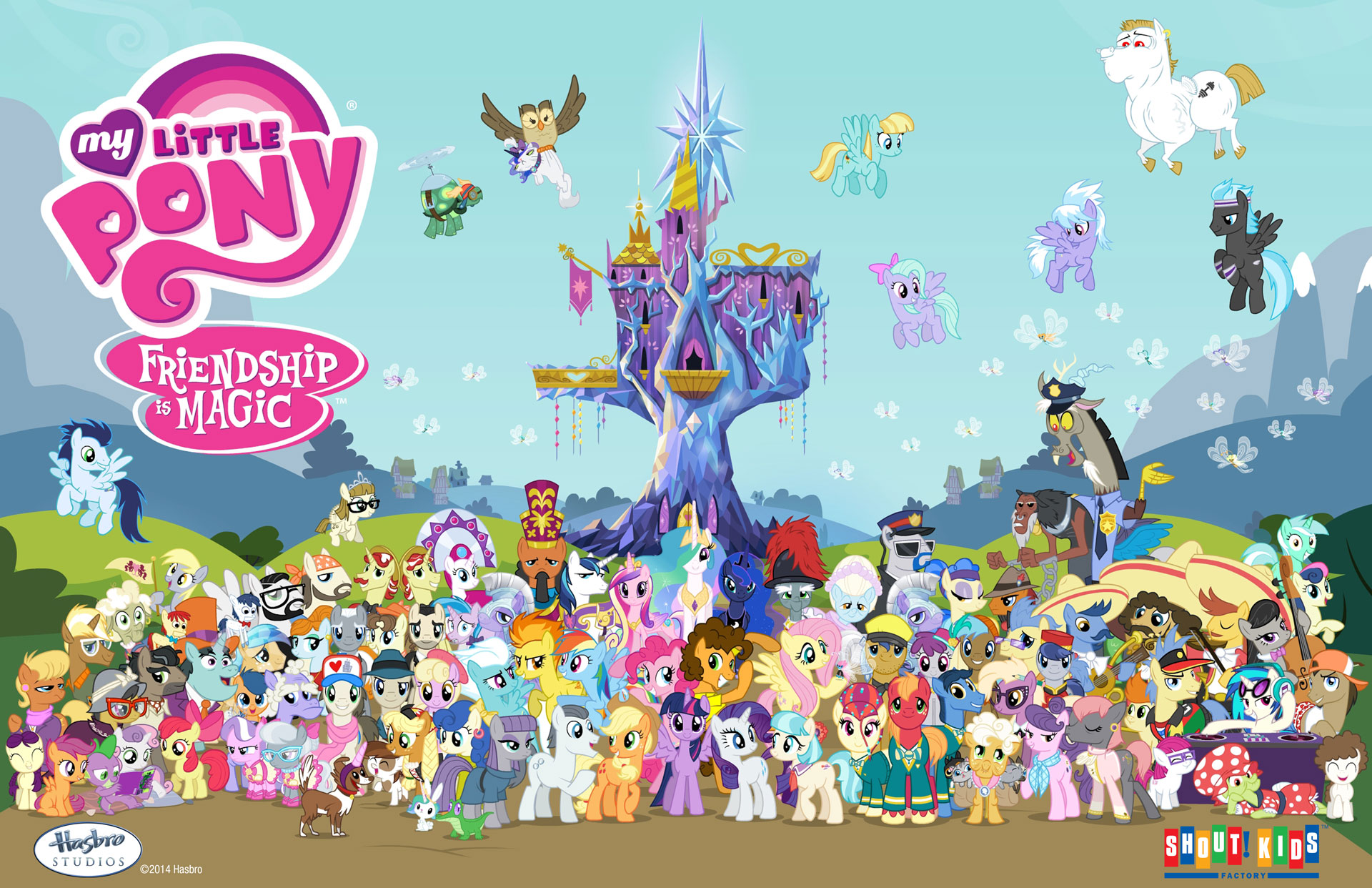 5. Daring Don't
We fell in love with Daring Do back in Season Two in "Read It and Weep," so we were totally excited to see Rainbow Dash joining this adventurous pony in Season Four. With plenty of action and a strong message about accepting help from others, "Daring Don't" easily made our top five list.
4. Rarity Takes Manehattan
We always enjoy seeing the new fashion creations designed by Rarity, and this episode didn't disappoint! Not only was Rarity able to regain her sense of generosity after another designer took advantage of her, but she showed amazing creativity to solve her runway problems. And that was no easy feat, as the Hub Network tweeted, "Project Runway has Heidi Klum, but she's not nearly as harsh a critic as #MLPFIM Fashion Week judge Prim Hemline #MLPseason4."
3. Bats!
We couldn't wait to see what happened when sweet and kind Fluttershy goes head to head with Applejack, and it was both thrilling and fun to see Fluttershy transformed into Flutterbat. This episode had a great lesson about how all creatures deserve a place to be, even if they are 'creepy' vampire fruit bats. Fun fact: as an April 1st prank, Meghan McCarthy tweeted, "Episode 411: 'Bats' It's just like the musical 'Cats,' but with, you know, bats. And ponies. But mostly bats. #MLPseason4."
2. Pinkie Pride
Pinkie Pie and parties go together like cupcakes and party cannons. So what would happen to Pinkie if another party pony came to Ponyville? Not only did we love the message about not letting pride get in the way of collaboration, but we adored watching the guest role of Cheese Sandwich voiced by the very talented "Weird Al" Yankovic.
1. Twilight's Kingdom Part 1 & 2
OK, technically these are two episodes, but since this is one story arc, we're including both parts as our favorite episode of the season. Really, this story has it all — a diabolical villain, Twilight coming into her own as a princess, the crazy antics of Discord, and we finally get to find out what's in the magical chest! Our favorite quote is Discord exclaiming, "Oh my, I do love a good accessory. I suppose that's Rarity's influence."