"Great Special Effects!" – Boxoffice
Having just returned from a mission to Mars, Commander Ross (Justin Lazard) isn't exactly himself. He's slowly becoming a terrifying alien entity with a one-track mind – to procreate with human women!
When countless women suffer gruesome deaths while bearing half-alien offspring, scientist Laura Baker (Marg Helgenberger) and hired assassin Press Lennox (Michael Madsen) use Eve (Natasha Henstridge), a more tempered alien clone, to find Ross and his virulent brood. But they underestimate Eve's maternal drive, and before long she escapes to mate with Ross in order to create a pure, unstoppable race that could spell doom for mankind.
As time is running out, the ultimate battle takes place in a chilling climax that puts Darwin's theory to the ultimate test... only the strongest species will survive.
---
A Double-Dose Of Sci-Fi Terror, Uncut And Unrated!
SPECIES III
In the ongoing fight for supremacy between mankind and human-alien hybrids, a fatal weakness among the hybrids has given humans the advantage… until now. When Sara (Sunny Mabrey, Snakes On A Plane), the daughter of Eve (Natasha Henstridge, Species), is born, she develops into the most genetically perfect alien form yet! Seeking to repopulate Earth with her kind, this dangerously beautiful femme fatale heeds an overwhelming drive to mate... while a crack military team trails her in an attempt to end the war between the two species forever!
SPECIES – THE AWAKENING
When brilliant college professor Miranda Hollander (Helena Mattsson, American Horror Story) suffers a mysterious blackout and awakens amid the bloody aftermath of a mass slaughter, she turns to her uncle for answers. But when he reveals the shocking truth... that she's only half human, a clone from a hybrid of human and alien DNA, they must flee to Mexico to locate the scientist who created her. Soon they find themselves locked in battle with a horde of rampaging, unstoppable hybrids... and time is running out before Miranda will inevitably surrender to the killer instinct that lurks inside her own body!
---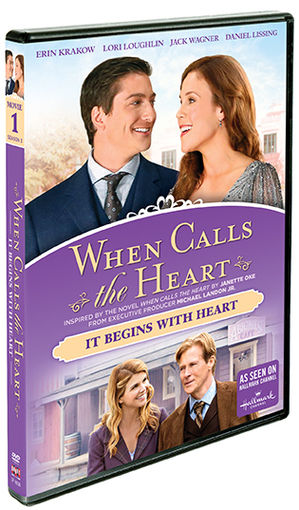 "Nostalgic… escapist fun like an evening of Downton Abbey" – FilmIntuition.com
From celebrated author Janette Oke (The Love Comes Softly series) comes a rigorous and romantic adventure as epic as the wide frontier. Erin Krakow (Army Wives), Daniel Lissing (Eye Candy), Lori Loughlin (Full House, 90210) and Jack Wagner (Melrose Place) star in When Calls The Heart: It Begins With Heart, an especially romantic film originally broadcast under the title, "A New Year's Wish."
In the days before the big New Year's Eve celebration, Hope Valley sees some unpredictable resolutions. For instance, Abigail sets out to catch whoever's been stealing from her kitchen – and finds herself in charge of two orphans in the process. Elizabeth resolves to take charge of Jack's dog, Rip, in an attempt to remedy Rip's apparent jealousy of their relationship. Rosemary is determined to win a San Francisco Herald essay contest about a "real frontier family"… and has to pose as Lee's wife when a reporter from the paper shows up. And Bill Avery tries his best to convince Jack that he's not the one who should be behind bars for counterfeiting. Meanwhile, two visitors in town ponder sticking around and causing trouble for both Jack and Pastor Frank!
---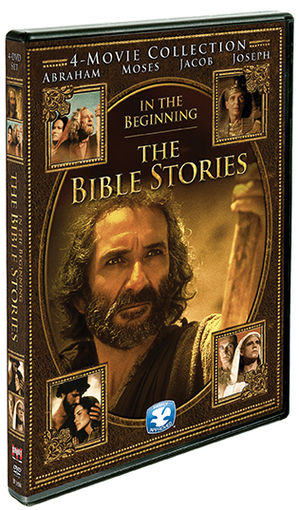 The greatest events from The Bible come to life in The Bible Stories, a series of full-length films presenting powerful and moving tales of faith and glory.
This four-disc collection explores many of the events chronicled in the earliest books of the Old Testament. Including Abraham, Jacob, Moses and the Emmy-winning outstanding miniseries Joseph, these films provide inspirational as well as entertaining examinations of the stories that have shaped the way millions perceive the world around them.
Featuring performances by a roster of acclaimed actors including Ben Kingsley, Richard Harris, Barbara Hershey, Sean Bean, Lesley Ann Warren, and Christopher Lee, The Bible Stories "In The Beginning" is an outstanding collection of faithfully rendered tales lifted directly from the scriptures.
---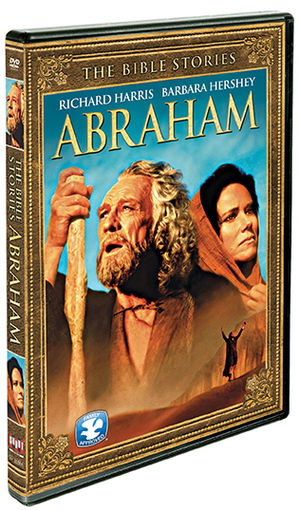 The greatest events from The Bible come to life in The Bible Stories, a series of full-length films presenting powerful and moving tales of faith and glory.
An ordinary man is called upon by God to show his unwavering faith in Abraham, one of the most famous and dramatic Bible tales of all. Shepherd Abraham (Richard Harris) and his wife Sarah (Barbara Hershey) follow the heavenly commands of God and embark on a journey that would impact generations of humankind. Abraham and Sarah overcome life's obstacles and trials through their steadfast trust in God – but that trust is tested when God commands Abraham to sacrifice his beloved son, Isaac.
Powerful and affirming, Abraham is a tale whose message resonates throughout the ages.
---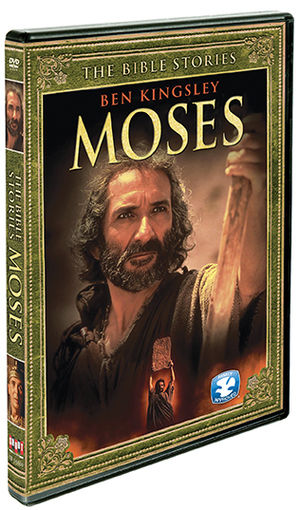 A Prince Of Egypt. A Man Of God. A Powerful Actor Plays A Legendary Role.
Faith in God. Escape from slavery. The two great themes from the Old Testament Book of Exodus are given thrilling new life in this recreation of Moses leading the children of Israel from bondage in Egypt to freedom in the Promised Land.
Academy Award® winner* Sir Ben Kingsley (Ghandi, House Of Sand And Fog) is Moses and Frank Langella, David Suchet and Christopher Lee portray other powerful Biblical figures in this monumental production. All the glory and spectacle are here: Moses' childhood in Pharaoh's court, God's voice from the burning bush, the dreadful plagues, the parting of the Red Sea, the granting of the Ten Commandments and the long-awaited return to Canaan. Share the journey – and rekindle your sense of wonder.
*1982: Best Actor in a Leading Role, Ghandi