"A fresh and immensely entertaining take on the zombie genre." – Film Threat
A fiendish mix of outrageous humor and heart-stopping terror, The Return of the Living Dead is "a veritable smorgasbord of fun" (L.A. Herald Examiner)!
On his first day on the job at a medical supply warehouse, poor Freddy (Thom Mathews) unwittingly releases toxic gas from a secret U.S. military canister, unleashing an unbelievable terror. The gas reanimates an army of corpses, who arise from their graves with a ravenous hunger... for human brains! And luckily for those carnivorous cadavers, there is a group of partying teens nearby, just waiting to be eaten!
---
"Well-made, straight-ahead horror. Exceptionally well-written and well-directed." – Kevin Thomas, Los Angeles Times
Full, crescent, quarter... each is a Bad Moon for Ted Harrison. By day, he's a photojournalist visiting family in the Pacific Northwest. By night, he transfigures into a horrific half-human – a werewolf. Dead men tell no tales, so Ted's sure he alone knows about his vile double life. The secret, however, may be out. The family dog Thor, devoted to defending the household, has his suspicions.
Writer/director Eric Red (Cohen and Tate, Body Parts) delivers a new infusion of thrills with this red blooded shocker. Michael Paré (Streets of Fire) portrays Ted, hiding his accursed condition from his sister (Mariel Hemmingway, Lipstick, Star 80) and nephew (Mason Gamble). What better way to hide it than to create suspicion that the local killings are the work of another – especially if that other is the family's all-too-wise German Shepherd!
---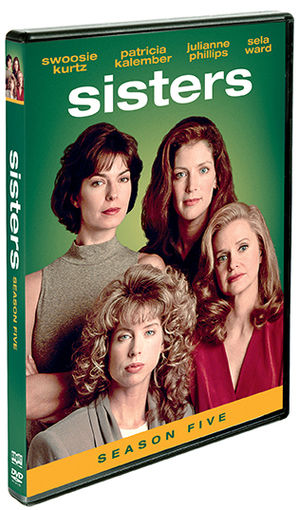 In love, loss, and laughter, your Sisters will always be there for you.
Alex (Swoozie Kurtz), Georgie (Patricia Kalember), Frankie (Julianne Phillips), and Teddy (Sela Ward) are back in the fifth season of the '90s hit series, Sisters. Created by Ron Cowen and Daniel Lipman, Sisters was acclaimed for its exploration of its richly detailed central characters: the Reed women. Through storylines that ranged from dramatic and issue-driven to charming and humorous, Alex, Georgie, Frankie and Teddy challenged broadcast television's notions of modern sisterhood and womanhood.
In Season Five, tragedy rocks Teddy's life, causing her to return to her self-destructive ways. Frankie creates an opportunity for herself that finds her pondering life away from the ones she loves most. And Georgie falls under the influence of a therapist, bringing a shocking upheaval to her past, present, and future.
Includes All 24 Episodes!