Welcome to the new ShoutFactory.com! Here is the essential info to help you navigate and explore the new site. Please have a look, share it with your friends and let us know what you think!
We're here with Elliot, our Director of Digital and Web Development, who is going to answer a few questions and walk us through some key features of the new site. How are you today?
I'm fantastic! We're all very excited to finally unveil the new website we have been working on. It is completely operational, so you can browse, comment and place orders.
One thing I noticed immediately is that I don't see any images of Blu-ray or DVD cover art. This seems to be a big contrast from the previous site.
Yes, that's completely intentional. We're representing our vast catalog with images pulled directly from the films and television shows themselves. We're showcasing our love for the content and giving you more access to video and information about the stuff you love. The actual cover art can still be seen after clicking through to a product page, where you can view and purchase all formats of the same title in one place.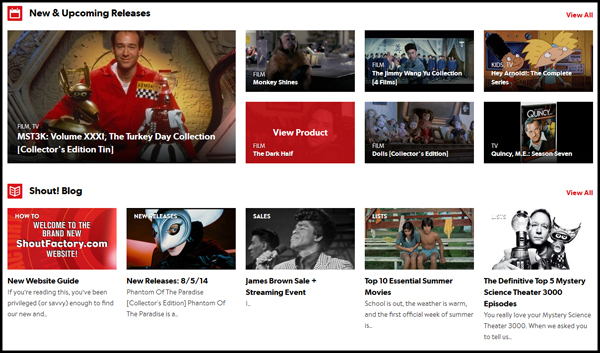 Browsing the Shout! Factory catalog and blog
Speaking of formats, I've noticed some product pages now include digital versions.
We're excited to launch with over 30 popular films in standard-definition and HD when available, and we have plans to roll out many more in the near future.
There's also now a Shout! Originals page. Can you tell me more about that?
Visitors will notice a lot of video content, which includes trailers and clips on many product pages, as well as the original content featured on the Shout! Originals page; we're sharing episodes of Your Weekly Shout Out!, Why We Love It and other projects which we are currently working on behind the scenes. The page can be found by clicking on the Shout! Originals logo on the homepage just below the scrolling banners.
It's next to some pretty fancy logos under the homepage banner, and I'm very tempted to click on them...
Many of our biggest fan-loved properties have been given their own pages to showcase product (as well as related blog entries and video) from brands like Scream Factory, Shout Kids, and Shout Select to shows like Mystery Science Theater 3000, My Little Pony, and Power Rangers.You can also find the Timeless Media Group page, which includes over 600 active products from the catalog we've acquired, never-before-found on our site. So please, click away!

Big logos that are just dying for you to click on them.
Let's say I'm not too familiar with what Shout! Factory has to offer. What's the best way to browse?
Aside from using the search to find something specific, we've broken our entire catalog down into four categories: Film, TV, Music, and Kids. Links to these can be found in the header of the site on any page. From there, there are a number of ways to slice-and-dice the available product, which includes filtering by genre, format, or even decade of original release using the new Time Warp bar. If you want to find out what horror films from the '80s we've put out on Blu-ray, it's as easy as a few clicks (at this moment, there are over 50).
Do you still offer forums for fans to interact with each other?
The community forums were some of the most trafficked pages on the previous site, so we definitely knew we had to keep an aspect of social interaction alive and well. Instead of a singular destination, we've decided to add comment walls to the bottom of every product page and editorial piece on the new Shout! Blog. We encourage open discussion on these walls. Please don't use the walls to address questions relating to customer service. For prompt answers to your questions about orders, shipping and payments, email info@shoutfactory.com.
How do I log in to comment and place orders?
First you need to create an account, which you can do by signing up with your email address or connecting your Facebook account if that's more convenient. You will also need a unique login for the ecommerce section of our site. In order to protect against credit card and identity theft, we operate the "store" separately from the site. If you wish to checkout as a guest without creating an account, that is also an option. Please see the "Store" section of our FAQ for more details.
Are you looking for feedback from the people who get to interact with the new site?
Absolutely! In fact, the whole "sneak peek" experience is intended for people to play around with the site, get used to the new interface, and certainly provide us with any comments or questions they may have. Constructive feedback from our fans and customers is crucial to launching the best possible site for everyone. Please direct all feedback to webmaster@shoutfactory.com. It's very much appreciated!