You really are what you eat with Farmer Vincent's smoked meat in this creepy horror yarn that "packs a punch that goes way beyond mere terror" (Boxoffice). Vincent's popular products contain a special ingredient that the psychotic farmer and his sister would literally kill to keep a secret! Starring Rory Calhoun (Angel), Nancy Parsons (Porky's), Nina Axelrod (Time Walker, Cobra) and John Ratzenberger (Cheers), and directed by Kevin Connor (From Beyond The Grave, At The Earth's Core), this darkly funny flick "just might be your cup of meat" (L.A. Herald Examiner)!

The Marx Brothers became entertainment icons through a long and brilliant career on vaudeville and Broadway stages, and they sealed their immortality in a string of celebrated feature films. But the end of their film career was perfectly timed for a collision with the birth of television. The new medium provided Groucho, Chico and Harpo with unprecedented exposure — which meant, of course, an opportunity to bring laughter to millions of people all at once. It was as if live vaudeville was being beamed to the entire nation. For the next 20 years, the Marx Brothers' appearances on television — individually and together — included sitcoms, game shows, variety programs and even the occasional drama.
This first of its kind set — featuring long-lost material from the Marx Brothers' own collections — presents a broad and genuinely rare array of television work from the comedy legends, who still had plenty of laughs left in them after the movies. For Marx Brothers fans — and fans of comedy in general — this is truly must–see TV.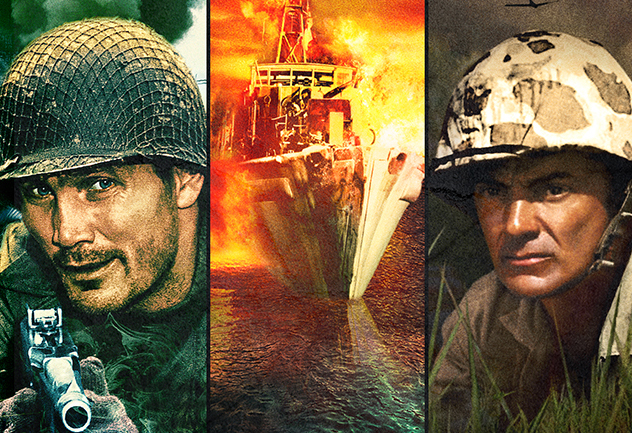 Attack (1956)- Jack Palance, Eddie Albert, and Lee Marvin star in a gritty and cynical combat drama. In the last days of WWII, the actions of a cowardly and inept Captain (Albert) leads to friction between him and his Lieutenant (Palance), and eventually tragedy. Robert Aldrich (The Dirty Dozen) directs this tale of a war where not every gun is pointed at the enemy.
Attack on the Iron Coast (1968)- A team of intrepid commandos, led by Major Jamie Wilson, plot to ram an explosives laden ship into a Nazi stronghold in order to cripple the Axis naval effort. Starring longtime Hollywood favorite Lloyd Bridges.
Beach Red (1967)- The battle to take control of an island from the Japanese in World War II is the framework for this hard-edged and thoughtful look at warfare produced, directed, and toplined Cornel Wilde. As the bloody conflict rages on, both sides of the battlefield find their fleeting memories of civilian life to be their only comfort.

When Jimmy witnesses the mistreatment of a carnival's performing bear, he sets out to rescue him. Discovering a magical cave that opens a portal in time, he travels back to the 1840s to enlist a mountain man's aid in finding a safe and happy home for his ursine friend. Escape to Grizzly Mountain is a delightful fantasy-adventure for the whole family starring Dan Haggerty as Jeremiah, the nature-loving woodsman from the past.