A thrilling landmark film that jolts along at a breakneck pace, Escape From New York leapt to cult status with high-octane action, edge-of-your-seat suspense and the mind-blowing vision of lone warrior Snake Plissken (Kurt Russell) battling his way out of a post-apocalyptic Manhattan!
In a world ravaged by crime, the entire island of Manhattan has been converted into a walled prison where brutal prisoners roam. But when the US president (Donald Pleasence) crash-lands inside, only one man can bring him back: notorious outlaw and former Special Forces war hero Snake Plissken (Russell). But time is short. In 24 hours, an explosive device implanted in his neck will end Snake's mission – and his life – unless he succeeds!
---
When jazz dancer Kelly (Lucinda Dickey, Ninja III: The Domination) teams up with street dancers Ozone (Adolfo "Shabba Doo" Quiñones) and Turbo (Michael "Boogaloo Shrimp" Chambers), there's no stopping them! Now, at last, you can relive the exhilarating Breakin' saga on Blu-ray!
In Breakin', rich girl Kelly learns the moves of the street under the tutelage of Ozone and Turbo. In spite of her disapproving dance instructor, Kelly overcomes the odds to become a poppin' and lockin' princess – and the secret weapon in Ozone and Turbo's battle against rival dance team Electro Rock. The beat doesn't slow down for the slammin' sequel to Breakin', Breakin' 2: Electric Boogaloo! A hip-hop homage to the "hey kids, let's put on a show!" musicals of Hollywood's yesteryear, this fly follow-up finds our heroes coming to the rescue of a community center facing demolition at the hands of a greedy real-estate developer. Featuring even more fancy footwork than the original film, Breakin' 2: Electric Boogaloo is unquestionably the greatest film (title) of all time.
---
GHOULIES
Take a creepy old Hollywood mansion, a naive young man and a pretty girl. Add an over-the-top orgy and some slimy, winged goblins who crawl out of toilets, and you have Ghoulies, a horrifying and hilarious ride into the darkest regions of hell! Conjured during a party thrown by the mansion's new owner, the hairy, fanged demons waste no time wreaking havoc on the scene – and declaring the unsuspecting owner their new lord and master! Peter Liapis (Ghost Warrior), Lisa Pelkin (Jennifer), Michael Des Barres (Waxwork II, Under Siege) and Jack Nance (Eraserhead, Twin Peaks) star in this fanged frenzy of sharp twists and eye-popping shocks that'll get you where it counts!
GHOULIES II
The demonic, toilet-dwelling goblins are back! Stowed away in "Satan's Den," the traveling House of Horror operated by carnival workers Larry and Uncle Ned, the Ghoulies merrily devour the sideshow attraction's patrons... until Larry realizes his horror house is for real and tries to flee the scene! Deliciously outrageous special effects and over-the-top antics ratchet up the horrific fun! Kerry Remsen (Pumpkinhead), Phil Fondacaro (Troll), William Butler (1990's Night Of The Living Dead) and Royal Dano (Big Bad Mama) star in this creepy, crawly sequel that's got every bit as big a bite as the original!
---
Dr. Michael Cayle thought leaving the chaotic lifestyle of New York City for the quiet, small town of Ashborough would bring his family closer together. Soon after arriving, however, he discovers the town's deepest secret: a terrifying and controlling race of creatures that live in the darkness in the woods behind his home.
Starring Dean Stockwell (Blue Velvet, Quantum Leap), Sean Patrick Thomas (Save The Last Dance, Cruel Intentions, Barbershop) and Blanche Baker (Sixteen Candles) and directed by Colin Theys (Remains, Dead Souls), this eerily terrifying film takes your darkest fears and brings them home to roost.
---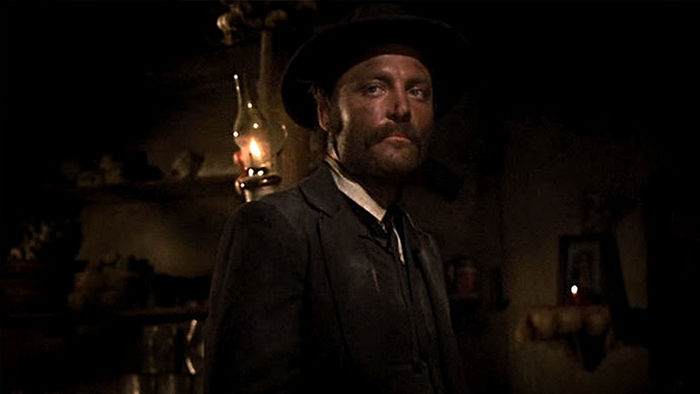 One of the greatest tales of the American West-- in a gritty and controversial retelling.
The Gunfight at the O.K. Corral has been the subject of many cinematic adaptations, but never anything quite like Doc. Exploring a darker side of gunslinger Doc Holliday (Stacy Keach, The Long Riders), Marshal Wyatt Earp (Harris Yulin), and Katie Elder (Faye Dunaway, Bonnie & Clyde), Doc examines these heroes from the Old West from a moody psychological angle, painting a portrait of them-and the actions that led them to the infamous showdown in Tombstone-that is at once familiar and shocking.
Michael Witney and Denver John Collins also star in this melancholy Western from director Frank Perry (Diary of a Mad Housewife, Mommie Dearest).