Get ready for five chilling tales of terror starring the master of horror Vincent Price!
MASTER OF THE WORLD
1080p High-Definition Widescreen (1.85:1)/DTS-HD Master Audio 2.0/1961/Color/Not Rated/102 minutes
TOWER OF LONDON
1080p High-Definition Widescreen (1.66:1)/DTS-HD Master Audio Mono/1962/B&W/Not Rated/80 minutes
DIARY OF A MADMAN
1080p High-Definition Widescreen (1.66:1)/DTS-HD Master Audio Mono/1963/Color/Not Rated/96 minutes
AN EVENING OF EDGAR ALLAN POE
Standard Definition (1.33:1)/DTS-HD Master Audio Mono/1970/Color/Not Rated/53 minutes
CRY OF THE BANSHEE
1080p High-Definition Widescreen (1.85:1)/DTS-HD Master Audio Mono/1970/Color/87 minutes (Theatrical Cut, Rated R)/91 minutes (Director's Cut, Not Rated)
Also Includes 12-Page Book With Rare Photos
---
"A tightly wound and engrossing thriller!" – The Hollywood Reporter
Imagine being a hunter leading highly trained bloodhounds in pursuit of a killer… and the trail leads directly to you! Starring Academy-Award® winners Kevin Costner and Gene Hackman, No Way Out is "a mesmerizing look at Washington power" (The Hollywood Reporter). Capturing a well-deserved four stars from critic Roger Ebert, this "taut [and] stylish" (Newsweek) thriller is fast-paced and powerful — "a perfect nailbiter" (Variety)!
In a fit of rage, Secretary of Defense David Brice (Hackman) murders his mistress (Sean Young, Blade Runner). To keep a lid on the scandal, Brice's loyal aide (Will Patton, Falling Skies) creates the perfect cover-up: he "invents" a more enticing killer — a Russian spy — and then enlists Naval Commander Tom Farrell (Costner) to find him. But as a chilling twist of fate would have it, Farrell also has a strong connection to the victim… and now all the clues he's been hired to uncover are leading straight to him! In a desperate race against time, Farrell's search for the killer is not only a matter of national security, but also a matter of saving his own hide.
---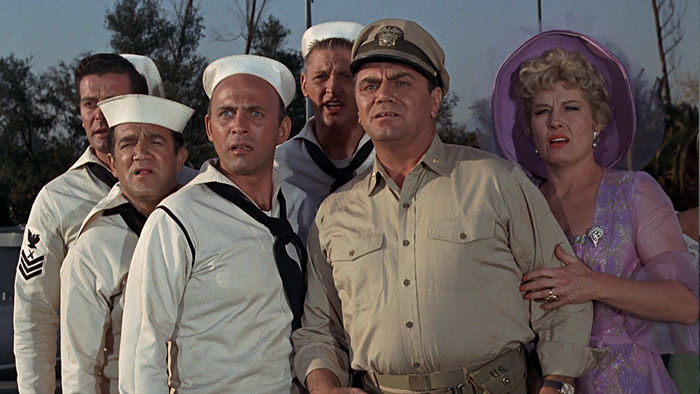 All hands on deck, you eight balls!
Climb aboard the PT-73 for a double feature of military mirth featuring the crazy crew from the classic sitcom, McHale's Navy! This pair of full-length comic (mis)adventures promotes your favorite characters from the boob tube to the big screen — and brings a tsunami of laughter along with them.
First up, in 1964's McHale's Navy, the crew finds themselves in deep trouble when a well-meaning plot to save an orphanage backfires and leaves them up to their necks in debt. McHale (Ernest Borgnine) and the boys have a new scheme up their sleeve to save their skins… but will Captain Binghamton (Joe Flynn) slap McHale with a court-martial before they hit it big?
Then, in the 1965 follow-up, McHale's Navy Joins the Air Force, a series of snafus finds the hapless Ensign Parker (Tim Conway) in a case of mistaken identity when he switches uniforms with a pilot… and the Air Force gains an airhead!
When it comes to shipping big laughs, McHale's Navy is always at your service.