Fans of The Jeffersons, rejoice! All 253 episodes of the classic sitcom developed by Norman Lear (All in the Family; Mary Hartman, Mary Hartman) have finally arrived on DVD in The Jeffersons: The Complete Series.
Originally airing from 1975 to 1985, The Jeffersons documented the side-splitting exploits of an upwardly-mobile family: dry cleaning entrepreneur George (Sherman Hemsley), his wife Louise (Emmy® winner Isabel Sanford), and their son Lionel, as they move from the working-class section of Queens to a luxury apartment in Manhattan. George's brash, arrogant personality always seems to get him in hot water. Lucky for him, he's got the level-headed "Weezy" by his side and their wise-cracking maid Florence (Marla Gibbs) to keep him humble. Together, they overcome the comic challenges and culture clashes that their new way of life brings.
Featuring a terrific supporting cast (including Paul Benedict, Roxie Roker, and Franklin Cover), memorable guest appearances (Sammy Davis, Jr., Gladys Knight, Reggie Jackson, Billy Dee Williams and more) – and of course, one of the catchiest theme songs in television history – The Jeffersons: The Complete Series is another must-own sitcom classic from your friends at Shout! Factory.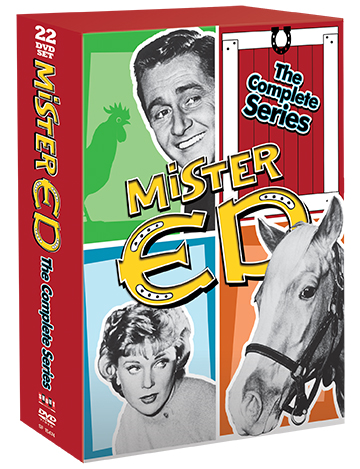 The world's most famous talking horse. The Olivier of equine actors. The one and only Mister Ed! Enjoy every one of his equine exploits with Mister Ed: The Complete Series! Architect Wilbur Post (Alan Young, Duck Tales) and his wife Carol (Connie Hines) have settled into a beautiful new home, complete with a barn in the backyard…and a very unique tenant. Wilbur finds that the former owner has left his horse behind. He soon discovers that this is no ordinary horse, as the eloquent Mr. Ed can talk, but only to Wilbur! The anxious architect and the pontificating palomino soon become the best of friends, leading to all sorts of comedic misadventures.
Winner of the 1963 Golden Globe Award for Best Television Series (Comedy), Mister Ed is undoubtedly one of the most memorable sitcoms of its era. From its kooky premise to its devilishly catchy theme song, it has endured as a true television classic. Mister Ed: The Complete Series presents all six seasons and 143 episodes of the beloved show, which remains as hilarious and socially relevant today as it did in its original airing.
An essential part of your classic television collection? Of course, of course!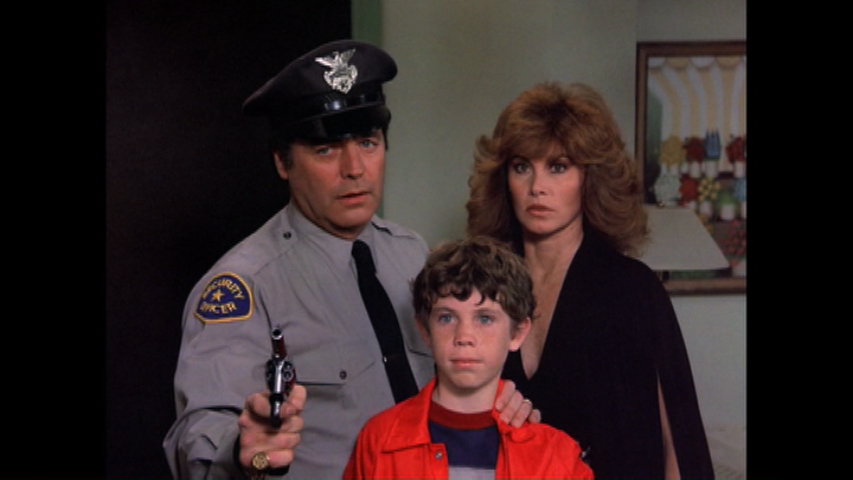 When there's a mystery to be solved…you've gotta have Hart!
Robert Wagner (It Takes A Thief) and Stefanie Powers (The Girl From U.N.C.L.E.) star in Hart to Hart: Season Three, a 24-episode collection of the stylish Emmy® and Golden Globe-nominated detective drama. As Jonathan and Jennifer Hart, a wealthy and glamorous couple who always manage to find themselves caught up in mystery and adventure, Wagner and Powers charmed audiences with their lighthearted chemistry and thrilling adventures. Assisting the Harts in their jet-setting life of intrigue, the loyal and gravel-voiced servant Max (Lionel Stander) provided an earthy counterpoint to the elegance of his employers. Together, the three made for a team that viewers found irresistible.
Created by Sidney Sheldon, both a bestselling novelist (Master of the Game, Windmills of the Gods) and hit television producer (I Dream of Jeannie, The Patty Duke Show), Hart to Hart is a smart and sexy detective drama. Join the Harts on their globetrotting tour of danger and romance with Hart to Hart: Season Three.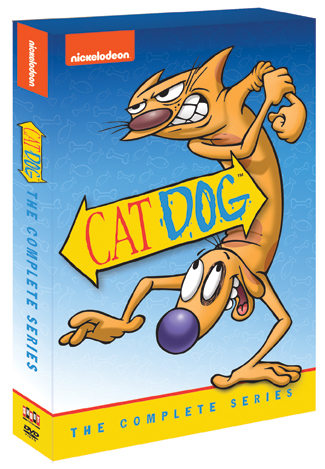 So you think you have trouble dealing with your sibling? Then you'll howl with laughter and meow for more watching the crazy comic misadventures of the feline and canine who bring a whole new meaning to the idea of "family bonding" in CatDog: The Complete Series.
Brothers Cat and Dog couldn't be more different — Cat is clever and cultured, while Dog is a naïve but lovable goofball. But they definitely share one thing in common: a body! This crazy set of conjoined twins find themselves in all sorts of silly adventures, but through them all, the two misfits stick together…whether they like it or not!
Originally airing from 1998-2005, CatDog: The Complete Series brings you all 68 episodes from one of your favorite Nickelodeon cartoon series ever. Trust us, you'll find them purrfectly woof watching!
Includes Poster!
The boys of the 12th Precinct are reporting for duty once again in Barney Miller: Season Six! Captain Barney Miller and his squad of Greenwich Village detectives return for 22 more episodes filled with both hilarity and humanity. Undertaking some of New York's most unusual cases and confronting some of the era's biggest societal issues, Barney Miller remains one of the funniest, most distinguished and beloved programs of its time.
Originally airing on ABC's 1979-80 seasons, Season Six continues the high standard of excellence that made Barney Miller an Emmy® and Peabody Award winner. Join Captain Miller (Hal Linden), Wojo (Max Gail), Harris (Ron Glass), Dietrich (Steve Landesberg), Levitt (Ron Carey) and the rest of the 12th Precinct in the squad room for Barney Miller: Season Six — it's truly arresting television.
The is the actual April 5, 1968 concert James Brown gave at Boston Garden on the day following the assassination of Dr. Martin Luther King, Jr. American cities were already on fire, and the mayor of Boston considered canceling the performance that evening. A deal was brokered for James Brown's show to go on and to be shot by Boston public television station WGBH and broadcast live to the whole city.
James Brown gave the performance of his life.
This 2+ hour extended edition of the show is the most complete version of the broadcast ever released, restoring missing footage and several performances unseen for decades!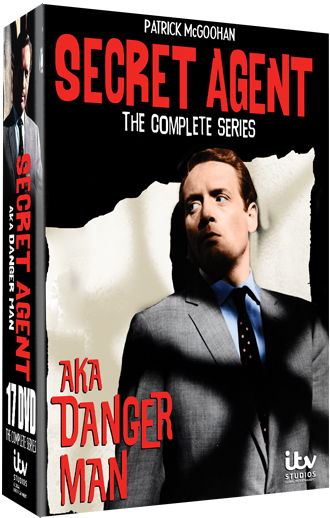 "Every government has its secret service branch. America, CIA; France, Deuxième Bureau; England, MI5. NATO also has its own.
A messy job? Well that's when they usually call on me or someone like me. Oh yes, my name is Drake, JOHN DRAKE."
Patrick McGoohan (The Prisoner) stars as John Drake in Secret Agent, the popular television series from the Golden Age of Spy Thrillers, the 1960s. Traveling the world to capture international criminals, John Drake rarely solved problems with a gun, preferring to use charm and wit over violence to bring in the bad guys.
Encompassing all 86 episodes from its successful broadcast run, Secret Agent (known in the United Kingdom as Danger Man) is an essential addition to the collection of any fan of the spy game.
If you're looking for a truly eclectic collection of traditional and contemporary American folk music, you're in the right CD. Some of America's best-known singers and songwriters of folk and folk-type music are included here. Canada and England are well represented, too. Their songs are classics that still move hearts and minds.
If you're a newcomer or just a casual listener, this collection serves as an excellent introduction to the major genres of America's folk music that have evolved over time – blues, protest, country & bluegrass, singer/songwriters, folk groups and hybrids of all kinds.