It Doesn't Get Any Grosser Than This… Especially in High-Definition!
Your favorite grime bandits come to life with all the farts, snot and vomit you can take in this hilarious film full of "gross-out humor" (The New York Times). Based on the wildly popular and irreverent trading cards, The Garbage Pail Kids® Movie stars Mackenzie Astin (Iron Will, Wyatt Earp) as a perfectly nice teenager who discovers the Kids...to his great disgust!
When Dodger (Astin) accidentally releases the Kids from their magical trash can prison, all smell breaks loose. Despite their offensive personal habits – and attitude problems – Dodger soon becomes fond of the Kids. But when Messy Tessie, Foul Phil, Valerie Vomit and the whole misfit crew join his fight against thuggish bullies, their efforts just might land them behind bars at the State Home for the Ugly!
This grossly entertaining cult classic features great makeup effects by John Carl Buechler (Troll, Dolls, Ghoulies) and co-stars Phil Fondacaro (Troll, Ghoulies II), Katie Barberi (Ferris Bueller's Day Off) and singer/songwriter Anthony Newley (Doctor Dolittle).
---
Official Selection – SXSW Film Festival 2015
Siblings Eva (Kiernan Shipka, Mad Men) and Zac (Timothée Chalamet, Interstellar, Homeland) are cut off from society in a remote farmhouse, their insular world bounded by an enormous wall. But as the pair begins exploring their extraordinary, potentially dangerous supernatural abilities, a mystery arises: is their strict, disciplinarian father trying to keep the world out, or to keep his children in? As their father searches for a divine answer to the circumstances of his crumbling world, Zac and Eva steal moments to explore their burgeoning otherworldly powers... This stunningly original science-fiction mind-bender is a surprising, thought-provoking look at the bonds that tie families together and the secrets that drive them apart. Twilight's Elizabeth Reaser co-stars.
---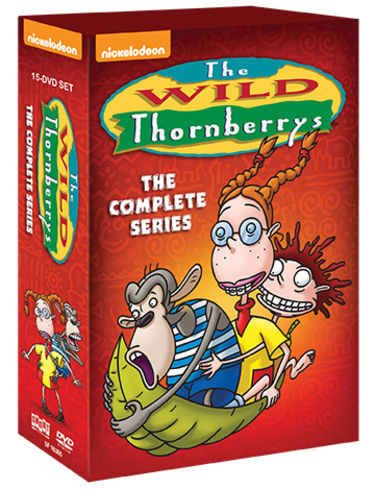 All 91 Wild Adventures!
The globe-trotting girl with the gift of gab and her fantastic family invite you to join them on the adventure of a lifetime in The Wild Thornberrys: The Complete Series!
After an encounter with a mysterious shaman, Eliza Thornberry is granted the amazing ability to talk with animals. Traveling to every corner of the world with her family of daffy documentarians, Eliza uses her fantastic skill to learn about the lifestyles and habitats of the world's most exotic creatures — straight from the horse's mouth! (And the chimp's mouth, and the lion's mouth, and… well, you get the idea.)
With all 91 episodes of the Nickelodeon classic cartoon series, Eliza's animated adventures promise hours upon hours of family fun. So what are you waiting for? Climb aboard the Thornberry Commvee — the journey is about to begin, and your ticket is The Wild Thornberrys: The Complete Series… brought to you by a Nickelodeon fan's favorite travel agent, Shout! Factory.
---
From the "Big House" to the grindhouse to your house!
Master of exploitation Bruno Mattei (Cruel Jaws, Rats: Night of Terror) hauls his unique cinematic stylings to the slammer in Women's Prison Massacre! Sultry reporter Emanuelle (Laura Gemser) is on the verge of breaking a big story about a corrupt politician when she gets framed and sent to a women's prison. There, incarcerated women face unspeakable cruelty and inhumane conditions — and that's before a quartet of dangerous men are temporarily transferred to the facility! When the felonious four overpower the guards and take over, it's up to Emanuelle and her fellow inmates to take control of the prison — and their very lives.
Featuring Mattei's signature flourishes and a script co-written by Claudio Fragasso (the visionary behind Troll 2 and Beyond Darkness), Women's Prison Massacre is a brutal and uncompromising entry in one of cinema's most infamous genres.