AN ANTHOLOGY OF TERROR!
A pack of cigarettes, a video game, a pick-up truck and a stately colonial home all become key elements in four terrifying tales of terror in the anthology film, Nightmares, directed by Joseph Sargent (The Taking of Pelham One Two Three, White Lightning).
A chain-smoking homemaker (Cristina Raines, The Sentinel) insists on going out for cigarettes even when an escaped madman is on the loose in "Terror in Topanga."
J.J. Cooney (Emilio Estevez, Young Guns), a video game hot-shot, dares to take on a strange challenger – though it may cost him his life – in "The Bishop of Battle."
A troubled priest (Lance Henriksen, Aliens) seeks to find the faith he has lost on the road, but instead he finds someone (or something) in this desert is trying to drive him out of his mind in "The Benediction."
Claire (Veronica Cartwright, Alien) hears rats in the walls. Her husband (Richard Masur, The Thing) believes he can take care of the problem with a few rat traps, but this problem is only going to get much bigger in "Night of the Rat."
---
"A macabe, madcap whirlwind of horror." – Cult Movies Magazine
Medical science leaps light years into the future in this "great, absurd movie" (The Psychotronic Encyclopedia of Film) that explores the strange world of transplants, cloning and mutant regeneration. Strangely relevant in today's ethically challenged world, this presents a truly psycho surgery case and is "one of the great sci-fi sleaze classics" (Starlog).
When Dr. Bill Cortner loses his sweetheart, Jan, in a car accident, he refuses to give up hope for her life. Scooping up her decapitated head, he brings it back to the lab for resuscitation. But keeping her head alive is one thing – finding her a new body is quite another. So while the mad doctor is out looking for spare parts, she's stuck at home going out of her mind – literally! And nothing will stop her from getting revenge on the man who is keeping her as a trophy girlfriend!
---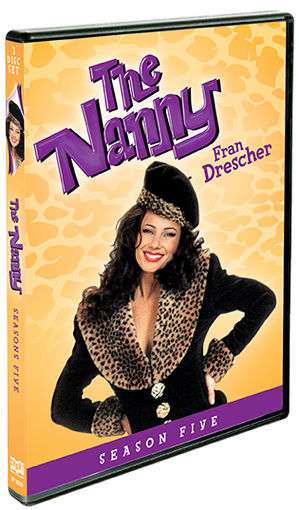 I now pronounce you man and Fran!
The fashionably funny Fran Drescher is back for more in the fifth season of The Nanny, the nineties sitcom with style and flair to spare. In Season Five, Fran Fine (Drescher) is fully ensconced as the comedic caregiver to the Sheffield children. But her "Will they or won't they?" romance with dreamy Broadway producer Maxwell Sheffield (Charles Shaughnessy) just might lead to a big promotion - from babysitter to bride! Will the producer pop the question? Will the nanny tie the knot?
Also starring Daniel Davis, Lauren Lane, Nicholle Tom, Benjamin Salisbury, and Madeline Zima (not to mention an array of guest stars including Ray Charles, Chevy Chase, Whoopi Goldberg and Elton John), and more laughs than you can shake a shtick at, The Nanny: Season Five is another irresistible collection of comedic hijinks you can't help but say "I do" to.
All 23 Episodes!