All 142 hilarious episodes!
One of the all-time classics from the golden age of television, Sgt. Bilko/The Phil Silvers Show – The Complete Series has finally arrived on DVD. This multiple Emmy® Award winner, which originally aired from 1955-1959, was one of early television's biggest smashes and still commands attention today as both a hilarious sitcom and a star-making showcase for legendary comedian Phil Silvers (It's A Mad, Mad, Mad, Mad World) in his signature role as Master Sergeant Ernest G. Bilko.
Running the motor pool at Fort Baxter, the cagey Sgt. Bilko has always got an ace up his sleeve and a scheme in his head. From get-rich-quick scams to plots designed to keep himself free from the drudgery of work, he's always running an angle that will be sure to leave his commanding officer Colonel Hall tearing out his hair — and viewers in stitches!
Featuring a memorable supporting cast, including Harvey Lembeck, Allan Melvin, Joe E. Ross, and Paul Ford, the 142 episodes in this set represent a true masterpiece of American comedy. With some of the snappiest jokes and kookiest characters of all time, Sgt. Bilko/The Phil Silvers Show – The Complete Series is an essential piece of any classic television fan's collection.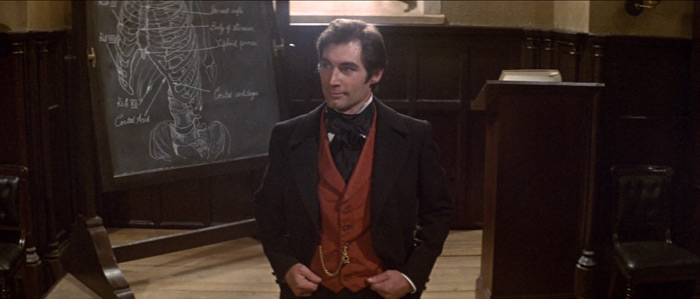 "A gothic thriller!" – The Hollywood Reporter
Based on Dylan Thomas' original screenplay, this shocking horror-thriller stars Timothy Dalton as Thomas Rock, a brilliant young anatomy professor in 1820s Edinburgh. At first accepting only the cadavers provided him for study – those of a few hanged criminals per year – Rock eventually recruits two grave robbers (Jonathan Pryce and Stephen Rea) to secure a better supply of corpses. Coming to the gory conclusion that they will earn more the "fresher" the corpses, the two begin committing murder and delivering warm bodies to the doctor's lecture chambers. Also starring Julian Sands, Patrick Stewart and Twiggy, The Doctor and the Devils brings classic chills from start to finish!
Ride along with the men and women of the Hill Street precinct in the third season of the award-winning Hill Street Blues! This groundbreaking series, created by Steven Bochco (NYPD Blue, L.A. Law), revolutionized the television cop genre and is universally hailed as one of the greatest programs in the history of television.
Combining gritty realism and unexpected humor to document the day-to-day lives of the officers and detectives who protect and serve the citizens of an unnamed city, the third season of Hill Street Blues maintained the high standard set by its previous two, earning a third consecutive Emmy® Award for Outstanding Dramatic Series and receiving several nominations for its unparalleled ensemble cast (including Daniel J. Travanti, Veronica Hamel, Michael Conrad, Bruce Weitz, Barbara Bosson, Joe Spano and Betty Thomas).
Originally broadcast on NBC in the 1982-83 season, these twenty-two episodes represent some of the finest television programming of their – or any other – era, and remain as vital and gripping today as when they first aired!
One of the most memorable of the early television police dramas, M Squad debuted in 1957 running for three seasons on NBC.
There were many black and white crime dramas competing for viewers in the late fifties, notably Dragnet, Arrest and Trial, and Checkmate. M Squad stands apart because of its unique combination of story, production values, musical score and a great cast portraying crime fighters getting down and dirty on the mean streets.
Lee Marvin, stars as Lt. Frank Ballinger, a no-nonsense Chicago plainclothes cop in the elite M-Squad Division. The Squad's (M-for Murder) task is to root out organized crime and corruption in Americas Second City. Marvin's portrayal of a tough undercover officer gave Marvin name recognition with the public, and did much to make him a star. He would go on to many starring roles (The Dirty Dozen, Cat Ballou) and to win a coveted OscarⓇ for Best Actor.
Frank Ballinger's boss, Captain Grey, is played by Paul Newlan, a fine actor who brings weight and substance to the role of running the M-Squad. It is perhaps his most memorable role.
But it wasn't just the crisp, taut story lines and great cast that made M Squad memorable.
First, it was shot in gritty, film noir style black and white. The excellent high contrast cinematography brings Chicago to life, with all of its easily recognizable landmarks, swanky penthouses on Lake Michigan, and the seedy darker side of the city.
Second was the musical score. In keeping with the film noir look of the series, the producers enlisted conductor Stanley Wilson to lead the orchestra in arrangements by legendary jazz men Benny Carter, and a young John Williams (Star Wars). For the second season, the great jazz artist Count Basie wrote the enduring "M Squad Theme."
The resulting television series is hard to match for its intensity and its humanity. Marvin's hard-nosed Frank Ballinger is the archetype of all the tough- guy, big-hearted crime fighters. M Squad is that rare television series that has it all. It is about time long-time fans and newcomers have a chance to experience the complete TV series on 16 high-quality DVDs of this great show.