Get ready for four high-octane films featuring martial arts sensation Jimmy Wang Yu (Master Of The Flying Guillotine, The One-Armed Swordsman)!
Also starring James Tien (Fist Of Fury), Lung Fei (Master Of The Flying Guillotine), Sylvia Chang (Twin Dragons, Mad Mission), Feng Tien (A Better Tomorrow) and Maria Yi (The Big Boss), this exhilarating set delivers four of Jimmy Wang Yu's most celebrated and action-packed performances!
This four-movie set includes:
ONE-ARMED BOXER (1972)
THE TATTOOED DRAGON (1973)
BEACH OF THE WAR GODS (1973)
MAN CALLED TIGER (1973)
---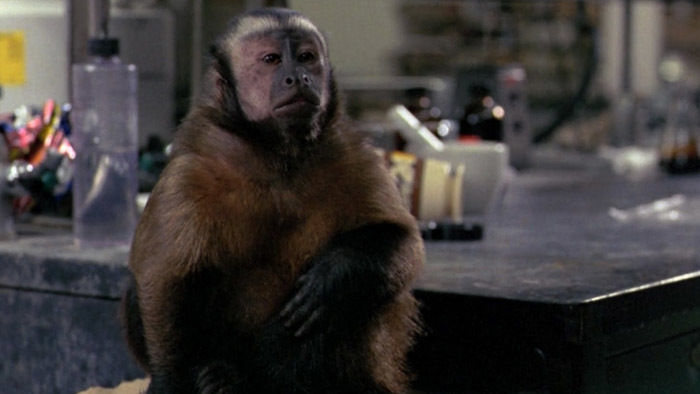 "Terrific psychological thriller" – L.A. Weekly
"A white-knuckle triumph [that doesn't] let up" – Newsweek
Allan Mann (Jason Beghe, Chicago Fire) is a bitter, angry and vengeful man ever since an accident left him paralyzed from the neck down. He's fed up with himself and everyone around him. All that changes when he's given Ella, a monkey trained to meet his every need. But when Ella begins anticipating Allan's thoughts, strange and deadly things start happening. And as she stalks and wreaks havoc on Allan's fair-weather girlfriend (Janine Turner, Northern Exposure), incompetent doctor and meddling mother, Allan realizes he must stop the cunning maniacal creature...before she fully takes over his mind!
Kate McNeil (The House On Sorority Row), Joyce Van Patten (Grown Ups), Stephen Root (Office Space), John Pankow (To Live And Die In L.A.), and Stanley Tucci (The Hunger Games) also star in this riveting thriller from George A. Romero (Night Of The Living Dead)!
---
"King And Romero Are Their Twisted Best!" - Rolling Stone
Masters of horror Stephen King and George A. Romero have created a "gripping, creepy, frightening" (L.A. Reader) film that "thrills, shocks and works us over" (Los Angeles Times)! Featuring an "intelligent screenplay and first-rate cast" (The New York Times) including Oscar® winner Timothy Hutton, Amy Madigan (Fringe), Julie Harris (The Haunting) and Michael Rooker (The Walking Dead), The Dark Half has "a terrific premise for a thriller and director George Romero sets it up with skill and style" (Roger Ebert).
Horror writer Thad Beaumont (Hutton) hopes to distance himself from his murder novels and from George Stark, the name he has used to anonymously author them. To achieve this, he cooks up a murder to play out in real life: a publicity stunt that should lay Stark to rest forever. But when the people around him are found gruesomely slain – and his own fingerprints dot the crime scenes – Beaumont is dumbfounded until he learns that Stark has taken on life of his own...and begun a gruesome quest for vengeance!
---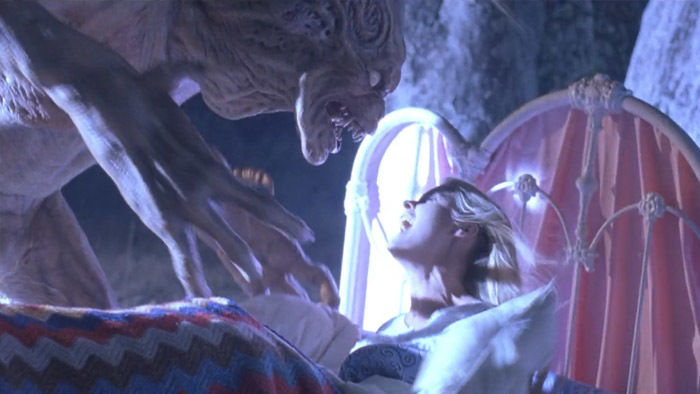 When five teenagers unwittingly resurrect a demon, nobody is safe from the creature's bloody rampage. But this monster is different – inside its demonic form dwells the soul of a boy murdered years ago. Can the evil creature be killed without destroying the innocent boy trapped within?
Starring Amy Dolenz (Witchboard 2, Ticks), Andrew Robinson (Hellraiser), Soleil Moon Frye (Punky Brewster), Hill Harper (CSI: NY), J. Trevor Edmond (Lord of Illusions), Linnea Quigley (Return of the Living Dead) and Kane Hodder (Hatchet), Pumpkinhead II: Blood Wings unleashes a non-stop barrage of gruesome gore from one of horror's most iconic monsters.
---
"The Romeo and Juliet atmosphere is present, but what catches the attention are the scenes involving cocaine, marijuana and violence, which make the film look more like an interesting and exciting new genre: the 'Brazilian gangster.'" – Rolling Stone
A gripping tale of love, revenge and violence, the hit crime drama Brazilian Western arrives on Blu-ray and DVD from Shout! Factory.
João de Santo Cristo is a young man who leaves his impoverished home behind in search of a better life. Arriving in Brasilia, he soon falls for the beautiful Maria Lúcia, the daughter of a senator. But as their relationship flourishes, João's involvement in drug trafficking causes him to slide deeper and deeper through a downward spiral of crime and violence. The stakes become even greater as João finds himself on a collision with playboy drug dealer Jeremias, his rival in business – and for the heart of Maria Lúcia. Brazilian Western has been hailed by critics and audiences alike for its passionate storytelling, melding the stylistic approach of classic genre films with a distinct and original vision from one of Latin America's up-and-coming directors, René Sampaio.
---
Red Skelton steals the show yet again in The Red Skelton Show: The Best of the Early Years 1951-1955! This eighteen episode collection is a perfect showcase for Red's indisputable comic genius and a delightful journey back to the Golden Age of Television.
With Red's parade of delightful characters - including Clem Kadiddlehopper, Cauliflower McPugg, Freddie the Freeloader and more - plus a gaggle of guest stars, like Jackie Gleason, Johnny Carson, and others, The Red Skelton Show had audiences at home and in the studio rolling with laughter.
In this specially selected collection, drawn from the Red Skelton vault exclusively by Timeless Media Group, generations of fans can experience the pleasures of episodes never before seen on DVD.
The Red Skelton Show: The Best of the Early Years 1951-1955 is a fabulous opportunity to enjoy one of America's pioneering comedians at the top of his game.
---
Gene Autry is the only entertainer with all five stars on Hollywood's Walk of Fame, one each for Radio, Recording, Motion Pictures, Television and Live Performance. He was the silver screen's first singing cowboy and is credited with creating the genre of the musical B Western. As the star of 89 feature films, Gene brings music, comedy and action to each of his roles. Now, for the first time in a DVD Collection, Gene Autry's rollicking big screen adventures and unforgettable tunes are brought home in these Western classics, fully restored and uncut from Autry's personal film archives.
TRAIL TO SAN ANTONE
It becomes a race against time when Gene Autry tries to help a young jockey get back on track after an "accident" arranged by an unscrupulous horse trainer ruins his career. Gene's back in the saddle, ropin' a corral-full of Western entertainment featuring the hit tune Shame On You, action-packed adventure with fantastic stunts, and Gene Autry's beloved Champion, Wonder Horse of the West. (1947)
RIDERS OF THE WHISTLING PINES
Gene Autry is an ex-forest ranger who believes he has accidentally shot the father of attractive Helen Carter, but soon learns that the guilt lies with some unscrupulous men trying to prevent discovery of a destructive tussock moth infestation threatening the timber. Can Gene employ crop-dusting and modern chemicals to save the day or will the evil logging baron use those techniques against him? With musical groups the Pinafores and Cass County Boys plus Champion, World's Wonder Horse. (1949)
RIDERS IN THE SKY
One of the greatest of cowboy songs since "The Last Round-Up" and "South of the Border" launches Gene Autry on his most stirring adventure! Riders in the Sky finds investigator Gene Autry helping a gal clear her father's name who is accused of murdering a gambler. When the leader of the gamblers gets involved, it's up to Gene and his comic sidekick pal Pat Buttram to outwit and outfight the badland badmen. (1949)
SAGINAW TRAIL
Gene Autry, a captain in Hamilton's Rangers in 1827, is sent to investigate the murders of settlers in Michigan's Saginaw Valley wilderness. With the help of his friend Smiley Burnette and two young homesteaders, Gene soon discovers that rich fur trader Jules Brissac is behind the staged Indian raids. It will take several songs and a sword fight for Gene to rounds up the bad guys to make the region safe for everyone! (1953)