FROM THE PEOPLE WHO BROUGHT YOU RE-ANIMATOR
They're cute, they're cuddly...and they kill! From horror director Stuart Gordon (Re-Animator), producer Brian Yuzna (Society) and screenwriter Ed Naha (Troll) comes this "fiendish nightmare" (The Hollywood Reporter) that combines the pint-sized playmates of childhood with bone-chilling fun, resulting in "a bloody bonbon you chew with relish" (Los Angeles Times)!
A precocious girl, her nasty parents, two punk-rock losers and a weak-kneed salesman inadvertently become the guests of two ghoulish senior citizens in their dark, haunted mansion. The old couple makes and collects dolls that, when not sitting still like good little mannequins, creep around in the night, offing the guests one by one! You may laugh at first, but if they turn on you, you'll regret it...for the rest of your short life! Guy Rolfe (Puppet Master III, Mr. Sardonicus), Stephen Lee (Robocop 2) and Carolyn Purdy-Gordon (Re-Animator, From Beyond) star in this bloody good terror trap that delivers its frights, fun and fantastic effects in equal measure.
Sometimes you've got to grab life by the lips and YANK as hard as you can.
A lot of TV stations have forgotten what "quality" means. But not Channel 62. They NEVER knew what it meant.
In the cult classic UHF, "Weird Al" Yankovic is George Newman, a daydreamer who becomes the manager of a small TV station that's losing money as quickly as it's losing viewers. Before long he's programming shows like "Stanley Spadowski's Clubhouse," "Wheel Of Fish" and "Raul's Wild Kingdom." But can Channel 62's new popularity save it from sinister forces? To find out... don't touch that dial!
Starring "Weird Al" Yankovic, Michael Richards (Seinfeld), Kevin McCarthy (Invasion of the Body Snatchers), Fran Drescher (The Nanny), Gedde Watanabe (Sixteen Candles), Victoria Jackson (Saturday Night Live) and more!
The Compleat Al is the amazing, hilarious and not entirely true story of "Weird Al" Yankovic, the Grammy® award-winning master of musical parody and rock and roll comedy. The mockumentary takes you behind the scenes, beginning with his childhood years, his high school and college days, and up through his early-career rise to stardom. This concocted chronicle also contains classic moments from AL-TV and footage from his trip to Japan, and a somewhat embellished version of how he received permission from Michael Jackson for "Eat It."
And to top it off, The Compleat Al contains eight "Weird Al" video classics: "Ricky," "I Love Rocky Road," the award-winning "Eat It," "I Lost on Jeopardy," "This Is the Life," "Like A Surgeon," "One More Minute" and "Dare To Be Stupid."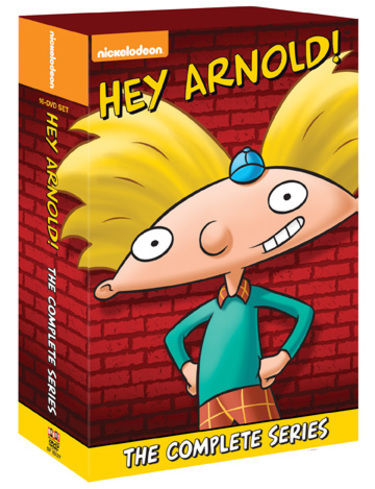 All 99 episodes on 16 discs!
Your favorite football head and all his pals are here with enough fun and laughs to cover several city blocks in Hey Arnold! The Complete Series.
Life in the big city is one big adventure for Arnold. Living with his grandparents, who run the Sunset Arms boarding house, Arnold shares a roof with a diverse and unusual menagerie of characters (including his pet pig!). But as any fourth grader knows, some of the most memorable people you'll ever meet are in school. And with friends like Arnold's (including storyteller Gerald, class jinx Eugene, sometime-bully Harold, and the tomboy Helga, who harbors a secret crush on our hero), you can be sure that he's got some funny exploits to share with you!
Featuring every episode from this cult classic animated series, this all-inclusive box set delivers non-stop, big-city adventures! Whether you want to revisit your own childhood memories or create new ones with your kids, Shout! Factory has two words for you: Hey Arnold!
Includes Poster Featuring Arnold, Gerald, Helga and Grandpa Phil!
Jack Klugman returns as the City of Angels' most brilliant and uncompromising medical examiner in Season Seven of the hit series Quincy, M.E.
Investigating suspicious deaths for the Los Angeles County Coroner's Office, the strong-willed Quincy frequently confronted some of the era's toughest social issues. Season Seven's 24 episodes (originally airing on NBC's 1981-82 television season) find the intrepid doctor taking on cases involving fraternity hazing, toxic waste, gun control, and drunk driving.
Frequently cited as an influence on today's successful crime investigation dramas, Quincy, M.E. Season Seven also features guest appearances by Mimi Rogers, Tyne Daly, Jonathan Frakes and Dixie Carter.
Witness the films of a man that would become a legend… an icon...Bruce Lee
This box set includes four of the films that would make him one of the most important martial artists ever to grace the screen. The set includes The Big Boss, Fist Of Fury, Way Of The Dragon and Game Of Death.
Get ready to witness the legend of the dragon!