You Don't Necessarily Have To Be Related To Be Family!
Twilight Sparkle returns with Applejack, Rarity, Pinkie Pie, Rainbow Dash, Fluttershy and Spike to celebrate the magic of friendship and family! Come watch as Apple Bloom, Maud Pie, Big Mac and others demonstrate that best friends can certainly be family. And family can certainly be best friends!
---
Brilliantly narrated by film and television legend Sir Patrick Stewart, Journey To Space gives a sweeping overview of humanity's accomplishments in space, as well as our ongoing activities and future plans.
Journey To Space puts into historical context the magnificent contributions made by the Space Shuttle program and its intrepid space pioneers. It uses the most spectacular space footage – including unique views of Earth and operations in space – such as deploying and repairing the Hubble Space Telescope. It then goes on to show how the shuttle launched and assembled the International Space Station (ISS). Together, these programs have taught us how to live, build and conduct scientific experiments in space. The ISS will continue operating in space until 2024, and the film shows how it is building a foundation for the next giant leaps into space, concluding with a fascinating, realistic scenario of how astronauts will actually get to Mars, live there for long durations, and then return home after a two-and-a-half-year mission.
---
"A Claustrophobic Chiller…" – Dread Central
Take a terrifying plunge into the warped mind of a disturbed young woman. Desperate to get her life back on track, the unstable Streak (Louisa Krause, Martha Marcy May Marlene) takes a job as a security guard, working the graveyard shift at a once upscale, now abandoned apartment complex. But on her first night on duty, she discovers a horrifying presence lurking deep within the bowels of the decaying building. With her nerves already on edge, Streak must confront demons both real and imagined as she struggles to keep a grip on her sanity. Jason Patric (The Lost Boys, Narc), and Mark Margolis (Breaking Bad) co-star in this harrowing thrill ride.
---
"What a blast!… Funhouse Massacre's a gas!" – Jake Dee, Arrow in the Head
"The title says it all: fun and massacre." – Staci Layne Wilson, Dread Central
On Halloween night, a group of the United States' most notorious serial killers escape from Statesville Asylum and descend upon a giant funhouse whose theme is based on their different reigns of terror. The unsuspecting carnival patrons think that the carnage created at the park is just part of the show… until they become part of the main attraction. The only people left to stop the killers are a rag-tag group of college kids, a clueless deputy (Ben Begley, The Hungover Games) and the local sheriff (Scottie Thompson, Skyline, Before I Wake), who seems to have a strange attachment to the leader of the maniacs, the silver-tongued devil "Mental Manny" (Jere Burns, Justified, Angie Tribeca).
This chilling thriller features supporting turns by horror icons Clint Howard (Evilspeak, The Lords of Salem), Courtney Gains (Children of the Corn, The 'Burbs) and A Nightmare on Elm Street's Robert Englund as the warden.
---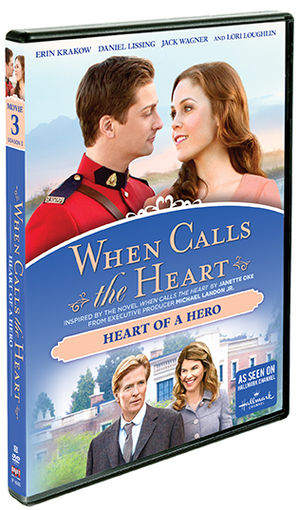 "Nostalgic… escapist fun like an evening of Downton Abbey" – FilmIntuition.com
From celebrated author Janette Oke (The Love Comes Softly series) comes a rigorous and romantic adventure as epic as the wide frontier. Erin Krakow (Army Wives), Daniel Lissing (Eye Candy), Jack Wagner (Melrose Place) and Lori Loughlin (Full House, 90210) star in When Calls The Heart, "a beautiful story with roots in relationships, self-empowerment, and the enduring power of love" (Common Sense Media).
New arrivals bring excitement, love and danger to Hope Valley. Pastor Frank has been reinstated following the revelation of his criminal past, but the arrival of his old cohorts, the Garrison Gang, are making life – and his relationship with Abigail – very tense. Bill Avery has his own debt to settle with Jake Garrison, and Jack intends to stay Bill's hand from killing the man. Meanwhile, Lee's foot injury brings a pretty nurse, Faith Carter from Hamilton… and soon after, her possessive fiancé. And Jack rises to the defense of new settlers on Gowen's land when Gowen abruptly raises their rent.