"De Niro and Grodin are just brilliant together…" – Scott Weinberg, eFilmCritic.com
Jack Walsh (Robert De Niro) is a tough ex-cop turned bounty hunter. Jonathan "The Duke" Mardukas (Charles Grodin) is a sensitive accountant who embezzled $15 million from the Mob, gave it to charity and then jumped bail. Jack's in for a cool $100,000 if he can deliver The Duke from New York to L.A. on time…and alive. Sounds like just another Midnight Run (a piece of cake in bounty hunter slang), but it turns into a cross-country chase. The FBI is after The Duke to testify. The Mob is after him for revenge and Walsh is after him to just shut up. If someone else doesn't do the job, the two unlikely partners may end up killing each other in this hilarious, action-filled ride from producer-director Martin Brest (Beverly Hills Cop).
---
Before The Terror Can End, See How It All Began
Anthony Perkins, Henry Thomas and Olivia Hussey star in this chilling prequel to the classic Hitchcock thriller.
A seemingly rehabilitated Norman Bates (Perkins) is drawn to a late night radio show where the host (CCH Pounder, Tales From The Crypt Presents: Demon Knight) encourages him to share his views on the topic of matricide. Reliving his childhood, Norman recounts his trials of a young boy (Thomas, Ouija 2) living with his widowed schizophrenic mother (Hussey, the original Black Christmas). These haunting memories are more than just disturbing visions of the past; they threaten to rekindle his killing urge in this spine-tingling thriller directed by Mick Garris (The Stand, Masters of Horror).
---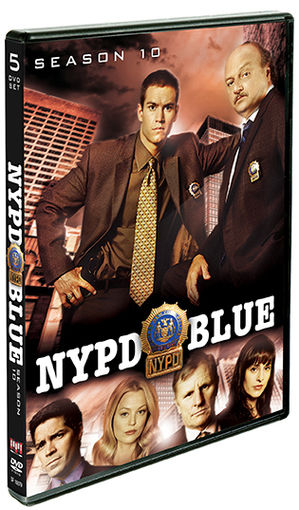 Featuring all Twenty-Two episodes!
NYPD Blue, the Emmy award-winning phenomenon from co-creators Steven Bochco and David Milch, returns to DVD for its milestone tenth season.
This season, the men and women of the 15th find themselves under pressure from within, as Internal Affairs investigates Det. John Clark (Mark-Paul Gosselaar) when his name turns up in a murdered prostitute's little black book. Outside the station house, Connie McDowell's (Charlotte Ross) developing relationship with Andy Sipowicz (Dennis Franz) uncovers new challenges. Sipowicz strains to maintain his personal life and clear Clark's name…but to do the latter, he'll need to call on an old friend: Detective Diane Russell (a guest starring Kim Delaney, reprising her Emmy award winning role.)
Co-starring Gordon Clapp, Henry Simmons, Garcelle Beauvais, Jacqueline Obradors ,Bill Brochtup, and Esai Morales, NYPD Blue: Season Ten continues the legacy of greatness that made the series one of the most talked about of its era.