Bronson's Loose Again!
Paul Kersey is no victim: He fights back – with a vengeance! Legendary tough guy Charles Bronson resumes his trademark role as the hard-as-nails urban avenger in Death Wish II.
With the murder of his wife and the revenge against her killers now behind him, Kersey begins a new life in Los Angeles. But tragedy is never far from his door, and when a group of local hoods viciously assault his daughter, they unleash a wrath unlike anything the city has ever seen. Kersey has the face of each of them branded in his memory, and he will not rest until he tracks every one of them down... and puts them all in the ground! This hard-hitting, action-packed sequel also stars Jill Ireland (Breakheart Pass), Laurence Fishburne (The Matrix) and Vincent Gardenia reprises his role as Detective Frank Ochoa. The film also features a rocking score by Jimmy Page of Led Zeppelin.
---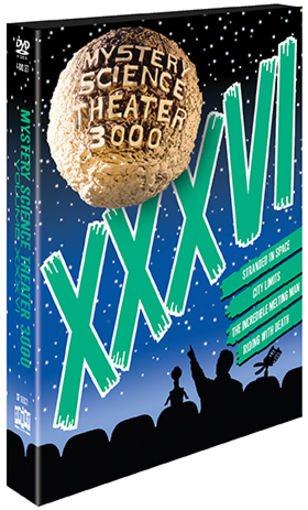 In this election year, we present two candidates for president of Mystery Science Theater 3000 Volume XXXVI. Representing the Comedy Central Party, Joel Hodgson, a champion of long-suffering cinephiles, leads the botty politic in two memorable episodes replete with inspired riffs and wacky host segments. Representing the Sci Fi Channel Party is Mike Nelson, a riff-ormer whose doctrine of laughter at any cost is clearly in play on the other two delirious episodes in this collection. We urge you to hear them both out as they take on some of the cheesiest movies of the day and lay out their visions for a funnier tomorrow.
Titles Include:
Stranded In Space
City Limits
The Incredible Melting Man
Riding With Death
---
"The Boy Who Cried Werewolf is brought to life with a dose of charm, grandeur and understated style." – Tim Ferrante, Temple of Shock.com
Richie Bridgestone's parents are getting a divorce, but that's the least of his problems at the moment. Richie is hoping his parents will reconsider and on a visit to his father 's secluded cabin, he witnesses his dad being attacked by a werewolf. Much like the tale of the boy who cried wolf, no one in the town will believe Richie's claims that his father will change into a werewolf at the next full moon.
This was the third and final pairing of actor Kerwin Matthews and cult filmmaker Nathan Juran (Attack of the 50 Foot Woman, The Brain from Planet Arous). The two had also worked together on the classic 7th Voyage of Sinbad and Jack the Giant Killer.
The film makes its home video debut with a beautiful new high definition transfer!
---
"Three Stars. Joe Bob says check it out." – Joe Bob Briggs, Orlando Sentinel
Having witnessed her mother's brutal death, Susan (Judy Landers, Dr. Alien) gets amnesia from a fall while being pursued by the killer, Silk (Ray Sharkey, The Idolmaker). Awakening in Ashland Sanitarium, she is once again terrorized by Silk, disguised as an orderly. To pry an incriminating secret from Susan's brain, Silk forms an uneasy alliance with Dr. Fletcher (Mary Woronov, Rock 'n' Roll High School), a psychotic scientist who has been testing a new lobotomy technique, using helpless inmates as her guinea pigs. These vicious experiments are carried out in the "Hellhole," a torture den awaiting Susan as its next victim.
Featuring an all-star cast of cult film stars including Marjoe Gortner (Starcrash, The Food Of The Gods), Richard Cox (Cruising), Terry Moore (Mighty Joe Young), Edy Williams (Beyond The Valley Of The Dolls), Robert Z'Dar (Maniac Cop) and Dyanne Thorne (Ilsa: She Wolf Of The SS).