Expect the unexpected… he does.
Neurosurgeon. Physicist. Rock Star. Hero. Buckaroo Banzai (Peter Weller, RoboCop) is a true 80s renaissance man. With the help of his uniquely qualified team, The Hong Kong Cavaliers, Buckaroo is ready to save the world on a moment's notice. But after his successful test of the Oscillation Overthruster – a device that allows him to travel through solid matter – he unleashes the threat of "evil, pure and simple from the 8th Dimension"… the alien Red Lectroids.
Led by the deranged dictator Lord John Whorfin (John Lithgow), the Lectroids steal the Overthruster with the intent of using it to return to their home of Planet 10 "real soon!" But no matter where you go, there Buckaroo Banzai is… ready to battle an interdimensional menace that could spell doom for the human race.
Featuring Ellen Barkin, Jeff Goldblum, Christopher Lloyd, and Clancy Brown, The Adventures Of Buckaroo Banzai is a cleverly crazed cult classic as only the 80s could deliver.
---
Kurt Russell IS Elvis in a career-defining performance.
Just two years after Elvis Presley died, Kurt Russell brought him back to life in the original biopic about the King of Rock 'n' Roll. Broadcast on ABC in 1979, Elvis marked the first time director John Carpenter would work together in what would become a legendary pairing in film history (Escape From New York, The Thing, Big Trouble In Little China and Escape From L.A.)
Tracing Presley's life from his impoverished childhood to his meteoric rise to stardom to his triumphant conquering of Las Vegas, Elvis features Shelley Winters (Gladys Presley), Season Hubley (Priscilla Presley), Bing Russell (Kurt's real-life father as Vernon Presley), Pat Hingle (Colonel Tom Parker), Joe Mantegna ("Memphis Mafia" member Joe Esposito) and Ed Begley Jr. (drummer D.J. Fontana) in an all-star supporting cast for an effort that garnered numarous Emmy® nominations including Outstanding Lead Actor for Russell.
RESTORED FROM THE ORIGINAL FILM ELEMENTS
---
"A deft exercise in atmospheric horror and insanity." – Paul Malcolm, L.A. Weekly
It looms up out of the woods like a dormant beast. Grand, imposing... abandoned and deteriorating, the Danvers State Mental Hospital, closed down for 15 years is about to receive 5 new visitors.
Donning protective gear, the men of the Hazmat Elimination Co. venture into the eerily vast and vacant asylum that is filled with an evil and mysterious past. Rampant patient abuse, medieval medical procedure and rumors of demonic possession are some of the many dark secrets the hospital holds - but then so do each of the men.

This "deliciously disturbing" (Us Weekly) thriller, directed by Brad Andreson (The Machinist), features a talented cast including David Caruso (CSI: Miami), Peter Mullan (War Horse, Trainspotting), Paul Guilfoyle (CSI: Crime Scene Investigation), Josh Lucas (American Psycho), Stephen Gevedon (Show Me a Hero) and Brendan Sexton III (The Killing, Boys Don't Cry).
---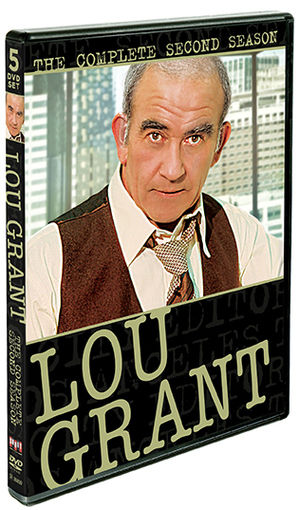 Ed Asner is back as his iconic character, the gruff but principled Lou Grant, for a second season of the Emmy-winning drama.
Season Two's twenty-four episodes finds city editor Grant continuing to lead his crack staff at the Los Angeles Tribune as they strive to report the stories upon which society turns. Investigating matters of journalistic ethics as well as powerful, sometimes controversial stories with hard questions and no easy answers, the series was a beacon of quality programming, impressing audiences and critics alike.
Robert Walden, Linda Kelsey, Mason Adams, Jack Bannon, and Nancy Marchand also star in a series whose timely and thoughtful examination of both the inner workings of the newspaper business and contemporary societal concerns made it one of the premier dramas of its era.