Your Fear Is Her Appetite.
While on her bachelorette party getaway, bride-to be Casey (Elma Begovic) gets a seemingly harmless bite from an unknown insect. After returning home with cold feet, Casey tries to call off her wedding… but before she's able to, she starts exhibiting insect-like traits. Brought to the breaking point by both her ongoing physical transformation and her wedding anxiety, Casey succumbs to her horrifying new instincts. As her metamorphosis becomes complete, the bugged bride and all who cross her path discover that everything can change with a single bite.
Directed by Chad Archibald, Bite is an altogether new breed of terror. A disturbing and intense film that has caused an international sensation at top genre film festivals, this is one movie that horror fans can really sink their teeth into.
---
"A science fiction horror fable… it may be the best film of its kind ever made!" – Pauline Kael, The New Yorker
Under cover of darkness, while an unsuspecting city sleeps, an alien life form begins to sow the seeds of unspeakable terror. Donald Sutherland, Brooke Adams, Leonard Nimoy, Veronica Cartwright and Jeff Goldblum star in this shocking, "first-rate suspense thriller" (Newsday).
One by one, the residents of San Francisco are becoming drone-like shadows of their former selves. As the phenomenon spreads, two Department of Health workers, Matthew (Sutherland) and Elizabeth (Adams), uncover the horrifying truth: Mysterious pods are cloning humans — and destroying the originals! The unworldly invasion grows stronger with each passing minute, hurling Matthew and Elizabeth into a desperate race to save not only their own lives, but the future of the entire human race.
---
"Gail Simone's Red Sonja is an absolute winner — powerful, thrilling stuff that builds up so much momentum you won't ever want it to end. Richly textured action-adventure with an unforgettable heroine." – Kurt Busiek (Astro City, Avengers)
Red Sonja, the She-Devil with a Sword, intends to pay back a blood debt owed to the one man who has gained her respect... even if it means leading a doomed army to their certain deaths! Who is Dark Annisia, and how has this fearsome warrior accomplished what neither god nor demon has been able to do: force Sonja to her knees in surrender? An epic tale of blood, lust, and vengeance, Queen of Plagues takes Red Sonja from the depths of her own grave to the heights of battlefield glory.
From Gail Simone (Batgirl, Birds of Prey) and Walter Geovani (Vampirella, Witchblade), based on the comic series originally published by Dynamite (learn more here), Red Sonja: Queen Of Plagues gives the iconic fantasy heroine a fresh new attitude! And now, you can see it all brought to life, starring Misty Lee (Ultimate Spider-Man)!
---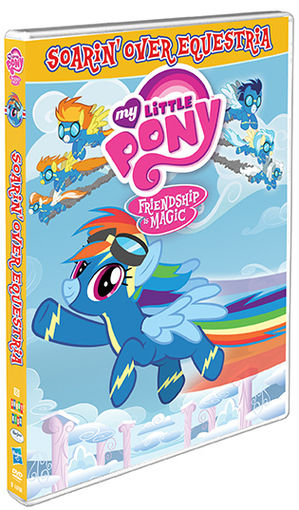 The sky's the limit with these five high-flying adventures, featuring all of your favorite winged Ponies! Join Twilight Sparkle, Rainbow Dash, Fluttershy, the Wonderbolts and, of course, Applejack, Rarity, Pinkie Pie, and Spike, as they show you Equestria the way it was meant to be seen… from above!
---
"A powerful and thought-provoking film... a director to watch" – Fangoria
"Smart, satisfying" – Horror Talk
"Genuinely frightening" – UK Horror Scene
"A mature and potent film" – Ain't It Cool News
Once upon a time, God Almighty appeared before one of the chosen, and commanded that he slay his own flesh and blood. Perhaps that time has come again…
Sarah Iman (Amy Gumenick, Arrow, TURN: Washington's Spies) is a young mother and faithful minister's wife. Her religious devotion and idyllic home life, however, are put to the ultimate test when she is forced to uncover the truth behind her husband's horrific visions. As tensions rise and secrets come to light, Sarah soon finds herself spiraling toward a terrifying choice between faith and blood.
A tale of unthinkable horror in the tradition of Rosemary's Baby, writer/director Gus Krieger's journey into the darkest corners of one family's faith features supporting performances by Leon Russom (True Grit, Prison Break) and Larry Cedar (The Crazies, Deadwood), with special guest appearances by Max Adler (Glee), Catherine Parker (Absentia) and Stuart Pankin (The Artist).
---
"Stunning shots that are both intimate and intense."
– The Boston Globe
Narrated by two-time Golden Globe nominee Ewan McGregor, Humpback Whales is an extraordinary journey into the mysterious world of one of nature's most awe-inspiring marine mammals.
Set in the spectacular waters of Alaska, Hawaii and the remote islands of Tonga, this ocean adventure offers audiences an up-close look at how these whales communicate, sing, feed, play and take care of their young. Captured for the first time with IMAX® 3D cameras, and found on every ocean on Earth, humpbacks were nearly driven to extinction 50 years ago, but today are making a slow but remarkable recovery. Join a team of researchers as they unlock the secrets of the humpback and find out why humpbacks are the most acrobatic of all whales, why they sing their haunting songs, and why these intelligent, 55-foot, 50-ton animals migrate up to 10,000 miles round-trip every year.
---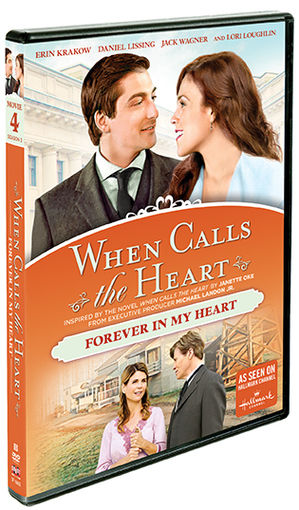 "Old-fashioned, nostalgic… escapist fun like an evening of Downton Abbey" – FilmIntuition.com
From celebrated author Janette Oke (The Love Comes Softly series) comes a rigorous and romantic adventure as epic as the wide frontier. Erin Krakow (Army Wives), Daniel Lissing (Eye Candy), Jack Wagner (Melrose Place) and Lori Loughlin (Full House, 90210) star in When Calls The Heart, "a beautiful story with roots in relationships, self-empowerment, and the enduring power of love" (Common Sense Media).
When Cody's sister, Becky, returns to Hope Valley, she's in a wheelchair due to her illness. Suspecting that Becky isn't walking because she's receiving a lot of attention, Elizabeth encourages her to try harder, both in her efforts to stand and in honing her talent for drawing. All are surprised to meet Carolyn Connors, Cody and Becky's long-lost, wealthy aunt who wishes to raise them on her own… away from Hope Valley. Meanwhile, Rebecca's efforts to land a role in a film may catapult her to stardom… and out of the arms of Lee.
---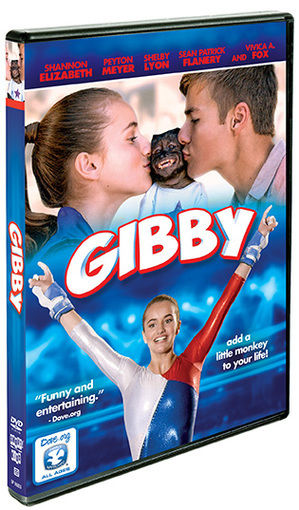 A Girl Who's Lost Her Footing… Finds A Friend With A Tail.
A young girl finds an unlikely and uplifting friendship with an adorable monkey in this charming, light-hearted film. Katie has lost interest in her school, her friends, and gymnastics following the loss of her mother. But her outlook changes in the summer when she is asked to monkeysit Gibby, her science teacher's Capuchin monkey. Taking care of the monkey challenges Katie and reorders her life in a big way, and Gibby's happy-go-lucky personality renews Katie's zest for life. Gibby helps her with gymnastics, renewing friendships (including finding a potential boyfriend) and overcoming her nemesis, a mean girl who is out to beat Katie at everything.
Rising star Shelby Lyon heads up an all-star cast, including Peyton Meyer (Girl Meets World), Shannon Elizabeth (American Pie), Sean Patrick Flanery (The Young Indiana Jones Chronicles), Vivica A. Fox (Independence Day) and, of course, Crystal the Monkey (Night At The Museum).