It's a natural history epic. It's a compelling detective story. It's an adventure.
Experience one of the most incredible natural phenomenons on Earth – the migration of hundreds of millions of Monarch butterflies – and the remarkable story of a determined scientist and his wife who spent decades unraveling the mystery of where the butterflies disappeared to each Fall. Flight of the Butterflies will immerse you in a world of wonder and inspire you with its story of both animal and human perseverance.
---
Rocky Mountain Express propels audiences on a steam train journey through the breathtaking vistas of the Canadian Rockies and relates the epic adventure of building the nation's first transcontinental railway.
Retracing the original route aboard the majestic steam engine 2816, the film transports the audience back to the age of steam to re-live this alpine nation-building odyssey. The film weaves together spectacular aerial cinematography, breathtaking vistas of the West, archival photographs and maps and the potent energy and rhythms of a live steam locomotive to immerse audiences in an era of remarkable ingenuity and struggle. Ride the rails along deep river canyons and over high mountain passes through a region of stunning natural beauty. Discover some of the most beautiful and rugged landscapes on Earth and the heroic human drama and epic engineering that shaped a continent.
---
For Sarah Bennett, home is where the horror is.
Katie McGrath (Jurassic World, TV's Merlin) stars in the thrilling first season of Chiller's first original series: Slasher. When Sarah Bennett (McGrath) returns to her small hometown, she finds herself the centerpiece in a series of horrifying copycat murders based on the grisly killings of her parents. As the murders escalate, long-buried secrets are revealed, making everyone around her a suspect… or a victim.
Brandon Jay McLaren, Steve Byers, Dean McDermott and Wendy Crewson also star in this eight-episode nail-biter, the first slice of a truly terrifying horror anthology series from creator Aaron Martin (Killjoys, Being Erica).
---
"Hits hard with excellent acting and wonderful tension" – Bloody Disgusting
After a disastrous summer trip, Jack (Andrew Simpson, Rebellion) finds himself hitchhiking through the sun-drenched rural French countryside with nothing but his British passport. Unaware of dangers that are plaguing the roads, he tries without much success to get home. Along the way, he partners with another hitchhiker, a beautiful French girl, Véronique (Joséphine de La Baume, Kiss of the Damned). But when they accept a ride from a local oddball (Frédéric Pierrot, The Returned), the pair find themselves thrown in a deadly game of cat and mouse in which nothing is what it seems. Bursting with nonstop twists and turns and an undercurrent of Hitchcockian malice, this riveting psychological thriller is a hell of a ride. Legendary cult actress Barbara Crampton (Re-Animator, You're Next) co-stars.
---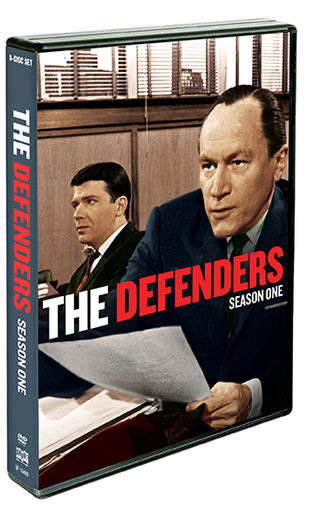 On the path to justice, there shall stand The Defenders.
One of television's most respected dramas finally arrives on DVD with The Defenders: Season One. E.G. Marshall and Robert Reed star as Lawrence and Kenneth Preston, a father-and-son team of defense attorneys specializing in complex and challenging cases, many of which explored real-world concerns which still resonate with audiences today.
Created by Reginald Rose (Twelve Angry Men), The Defenders was an Emmy® award-winning series many times over, with a well-earned reputation as one of the most socially conscious series ever to air on television.
In addition to its critical accolades, Season One's thirty-two episodes feature guest appearances from a litany of tremendous stars, including Jack Klugman, William Shatner, Ossie Davis, Richard Thomas, Frank Gorshin, Eva Gabor, Robert Duvall, Robert Loggia, Martin Sheen, Julie Newmar, and more.
An unquestionable champion of quality television, The Defenders: Season One is at long last in session.